Pineapple Fried Rice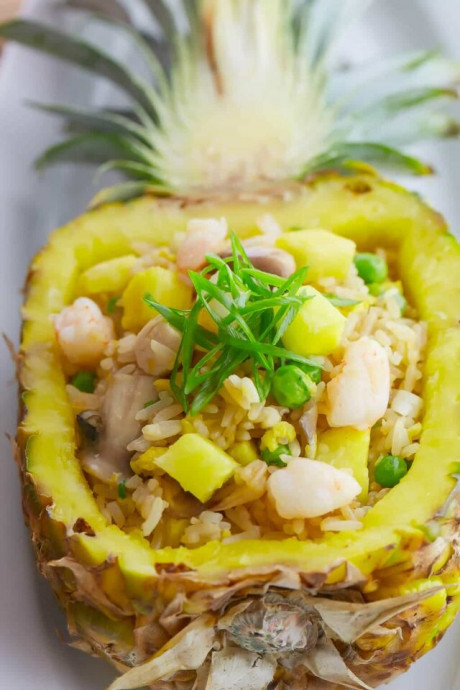 Pineapple Fried Rice only takes minutes to cook, but can easily become a heavy, soggy mess if you just throw all the ingredients into the pan for a stir fry. I'll show you have to make the best pineapple fried rice at home with some simple cooking tips that will guarantee fluffy, light, tasty fried rice — and NOT soggy, goopy or heavy. If you want to use whole pineapple for Pineapple Fried Rice, use the pineapple as a bowl for a presentation. Take a look at your pineapple. Which side is the flattest? The flattest side should be the bottom of the pineapple bowl. If your pineapple is roly-poly, then go ahead and make a very thin slice, just to create a flat edge. I probably could have sliced mine a little thinner — too thick of a cut and you'll cut too much flesh!
In this recipe for Pineapple Fried Rice, you'll cook the egg first, then dish out to plate. Then, in same pan, cook the chicken. A couple minutes later, add the shrimp. This is to ensure that each ingredient is perfectly cooked (not over or under cooked) AND that each ingredient maintains their distinct flavor and texture.
Chicken takes longer to cook than shrimp, and if you cooked them together, the shrimp will be rubbery and tough.
The egg is cooked separate because we want perfectly scrambled egg pieces in the fried rice. If you add the egg into the pan along with other ingredients, the egg will just coat all the ingredients and make them heavy. Plus, everything will taste like a mish-mash of ingredients. I want my eggs to taste like eggs, and my shrimp to taste like shrimp!
Ingredients:
1 whole pineapple
2 large eggs slightly beaten
salt & freshly ground black pepper
4 ounces chicken cut into bite sized cubes
4 ounces raw shrimp shelled & deveined, cut into bite sized cubes
3 tablespoons cooking oil divided
2 stalks green onion chopped
1 teaspoon grated or minced fresh ginger
3 cups cold, leftover rice
2 tablespoons soy sauce
1/2 teaspoon Asian sesame oil
6 white button mushrooms thinly sliced (or shiitake mushrooms)
1/2 cup fresh or thawed frozen peas