Pork Chops with Apricot Brandy Sauce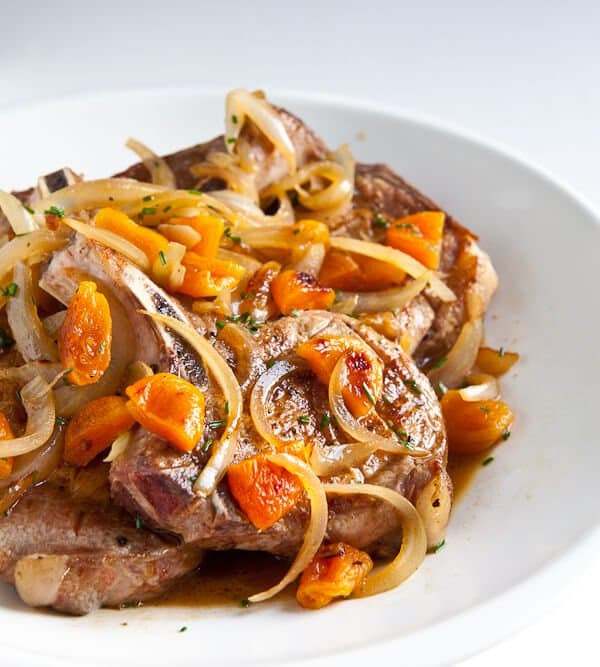 Pork chops with a tangy, sweet apricot brandy sauce. In this Pork Chops with Apricot Brandy Sauce recipe, you'll learn: Soak dried apricots in brandy to hydrate the apricots and infuse them with flavor. Spice combination of ground ginger and cumin adds warmth, complexity and pairs beautifully with apricot/brandy. How to choose the best type of pork chop for this recipe. How to prevent the pork chops from curling during cooking.
You don't need expensive brandy to cook with (save the good stuff for sipping). The more aged a brandy is, the more mellow and smooth the taste.Brandy is fruity, woodsy and subtly sweet. I also love the vanilla/caramel notes that come out, especially after letting the alcohol evaporate off in the pan. I thought a dried apricot, rehydrated with the brandy would give the perfect sweet/sour flavor. To complement the brandy and apricot, we chose ground ginger and ground cumin, both earthy, warm and just a little spicy.
This recipe is quick-cooking, so center cut loin chop, rib chop and boneless chop work great.
Ingredients:
1/2 cup dried apricots halved or quartered
1/3 cup brandy
1/2 teaspoon ground cumin
1/2 teaspoon ground ginger
1/2 teaspoon kosher or sea salt
freshly ground black pepper
4 thick-cut bone-in rib pork chops
1 tablespoon olive oil
2 tablespoons butter
1 large onion sliced
1 cup chicken broth