Air Fryer Crab Rangoon (Crab And Cream Cheese Filled Wontons)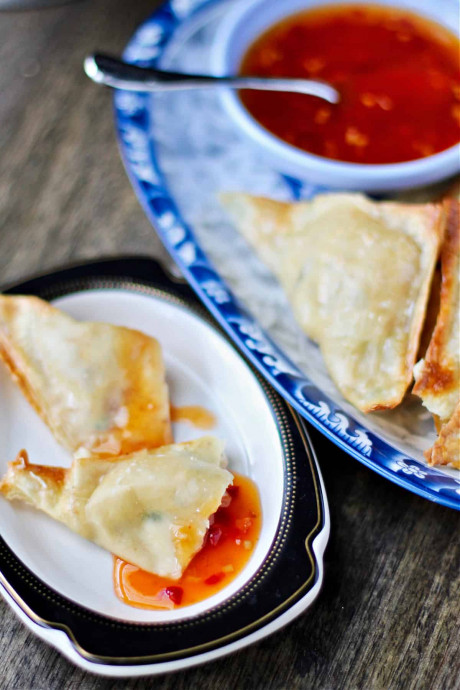 Crab rangoon is an appetizer whose roots are traced back to Trader Vic's, one of the first "tiki style" or Polynesian-style restaurants, which was based in San Francisco in the 1950s.
I remember visiting Trader Vic's in San Francisco when I was in college, although the draw for us was the giant mai tai's and other tropical cocktails in giant coconut shells with multiple straws... totally exotic for underage kids from LA visiting a city with bars that didn't check IDs.
Typically, crab rangoon is deep fried to crispy goodness and then served with a dipping sauce.
My favorite dipping sauce for these wontons is bottled Thai sweet chili sauce. You could also go with a soy vinegar sauce for a more savory flavor.
These are fun to make and super tasty for appetizers. While not as crispy as deep-fried, they definitely have all the flavor of crab rangoon, and they are totally delicious. Plus, they are so much easier to make.
Ingredients:
4 ounces cream cheese, room temperature
3 ounces crab meat (about 1/3 cup) picked over for shells
2 scallians, thinly sliced
2 teaspoons minced garlic
2 teaspoons soy sauce
1/2 teaspoon Worcestershire sauce
15 wonton wrappers
Thai sweet chili sauce for dipping