Pumpkin Soup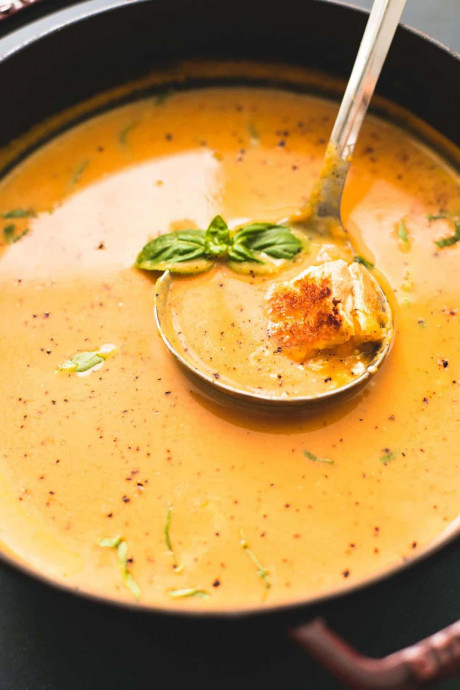 Rich and creamy pumpkin soup recipe topped with toasty grilled cheese croutons is the ultimate quick and simple 30-minute fall dinner!
This best pumpkin soup recipe is what fall dinner dreams are made of. One of my absolute favorite flavor profiles is sweet and savory pumpkin everything. Cooler weather and colored leaves have arrived around here, and it has me in the mood for a warm and cozy bowl of soup for breakfast, lunch, and dinner.
Add the grilled cheese croutons for dipping, put me by a fire, and I'm in autumn heaven! Whatever your dinner plans for tonight are, change them and make this creamy pumpkin soup with grilled cheese croutons instead, you will not regret it!
This easy, and insanely delicious pumpkin soup has a hint of sweet, and plenty of savory goodness thanks to the spice combinations of garlic powder, onion powder, and ground ginger. These seasonings combined with pumpkin puree, some broth, and a little help from heavy cream are transformed into a quick and tasty 30-minute meal even the kiddos will devour.
Ingredients:
3 cups vegetable or chicken broth
2 cups pumpkin puree - (not pumpkin pie filling)
1 ½ teaspoons garlic powder
1 ½ teaspoons onion powder
¼ teaspoon ground ginger
2 tablespoons sugar
1 teaspoon salt - (or to taste)
¼ teaspoon black pepper - (or to taste)
1 ½ cups heavy cream
4 slices white bread
4 tablespoons butter - softened
4 slices provolone cheese
⅓ cup crumbled goat cheese
fresh basil, for topping