Mushroom Soup Chicken & Rice Casserole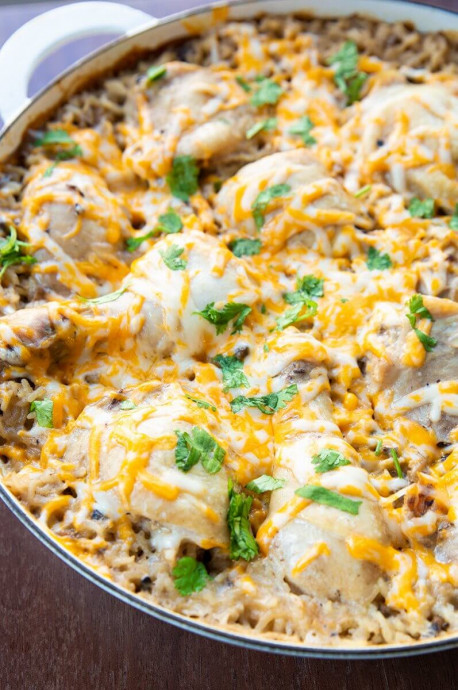 I have been eating this mushroom soup chicken and rice casserole for as long as I can remember. This recipe has chicken pieces of your choice that are baked up in a creamy mushroom soup and rice casserole, with cheese on top! Oh, and my Grandma would always sprinkle crushed saltine crackers on top as well, an awesome retro touch! This can be a really affordable meal for your family as you can skip the chicken breasts and use cheaper cuts like chicken thighs and legs if you want. I find that chicken thighs cook up the best in this recipe as chicken breasts can dry out.
If you use chicken breasts, make sure that you cover them with sauce and rice if you can to keep them from drying out.
Use only the rice I specify, wild or brown rice will take too long, and it won't cook on time.
Skin on or skin off chicken is another choice that is up to you. The chicken skin doesn't crisp up so if you don't like the texture of soft chicken skin, then remove the skin and cook skinless.
If you want to keep the skin on and make it crispy simply place the chicken on top of the rice and soup mixture. It will crisp up more!
Ingredients:
4-8 pieces assorted cuts of chicken
2 cups long grain white rice
two 10.5 ounces cans of condensed mushroom soup
3 cups water
2 tablespoons dry onion soup mix
1 cup shredded cheddar cheese