Baked Parmesan Garlic Chicken Wings Recipe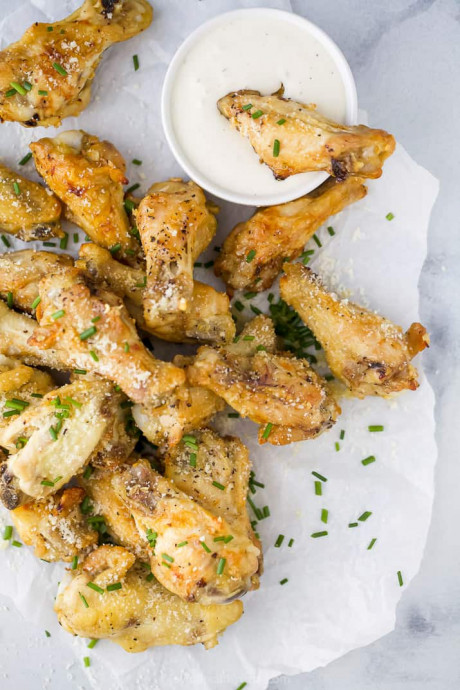 This recipe for Baked Parmesan Garlic Chicken Wings is a must-try. Forget Buffalo wings, forget even the Hooters wings (I just heard my husband gasp). The next time you're at the market, grab a couple pounds of wings and try this out. The dipping sauce is a mixture of blue cheese dressing with Dijon mustard.
These Crispy Baked Garlic Parmesan Chicken Wings will be the life of the party! Easy chicken wings are baked instead of fried for a healthier options then tossed in a mouthwatering garlic parmesan sauce! Still crispy and delicious as ever! The perfect party appetizer or game day recipe! So, have a secret to tell you.
Wings and Beer to be exact. Maybe that's part of the reason my husband married me? A girl who likes Beer, Wings, and Football! Yup, kind of a rare jewel. haha. Just like these Garlic Parmesan Chicken Wings!
Some people coat their chicken wings with baking powder. Baking powder will change the alkaline levels and make the skin browner, but honestly I don't need it. Just change the oven over to broiler and crisp that skin up naturally. No need to add extra ingredients that aren't needed. There are a couple of ways to make garlic parmesan sauce. But the main ingredients are garlic, butter and parmesan cheese. If you want a "creamy" version you would add milk and flour to thicken it up. This recipe uses butter, garlic, smoked paprika, red pepper flakes and black pepper.
Ingredients:
3 lbs. of chicken (mixture of wings and drumettes)
1 tablespoon canola oil
1 teaspoon sea salt
1 teaspoon black pepper
3 tablespoons unsalted butter
2 tablespoons olive oil
3 garlic cloves, minced
4 tablespoons parmesan cheese
1/8 teaspoon smoked paprika
1/4 teaspoon red pepper flakes
salt & pepper to taste