Arugula-Macadamia Pesto Shrimp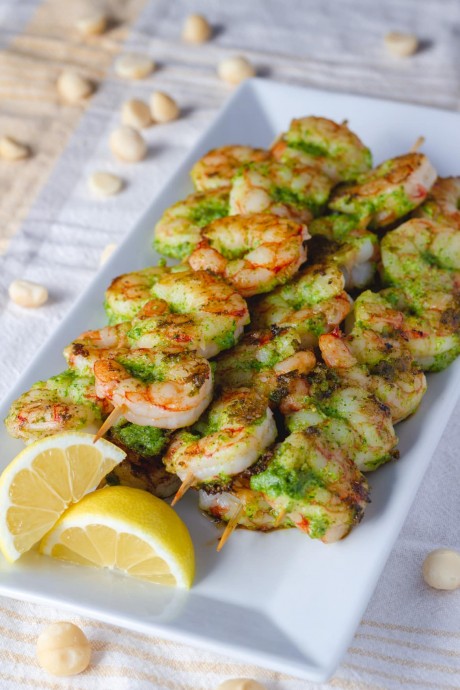 A bright and peppery pesto that pairs great with shrimp and chicken. Easy to prepare and quick to cook, this arugula-macadamia pesto shrimp will be on your table in less than thirty minutes.
This arugula-macadamia pesto is versatile and can be used tossed in a pasta, on pizza, mixed in salad dressing, or brushed over grilled chicken breasts. I opted to use Argentine red shrimp only because they happened to be on sale at the store. I'll typically get Gulf shrimp as they're more prevalent in Texas, but these were an option so I jumped on it. The Argentine red shrimp are similar to lobster in flavor with a sweet and robust flavor. They go well with the pesto and makes them even more enjoyable than they already are.
For me, the shrimp came deveined and without tails. This makes them easy to go from fridge to skewer in about 5 minutes time. After preparing the pesto, brush a little over each skewer. Place the skewered shrimp on a griddle, or grill, set to high heat. Grill each side for 3-4 minutes until the shrimp are firm and no longer transparent. Serve with a couple wedges of lemon to further enhance the flavor. You could even reserve a little pesto and mix it into some ranch to have in a side salad.
Ingredients:
1.5 lbs fresh shrimp skewered
3.5 cups packed arugula
1/2 cup macadamia nuts
1/2 cup parmesan cheese grated
1 clove garlic
1/2 juiced lemon yields about 2 tbsp
salt & pepper to taste
1/2 cup olive oil