Plum Cobbler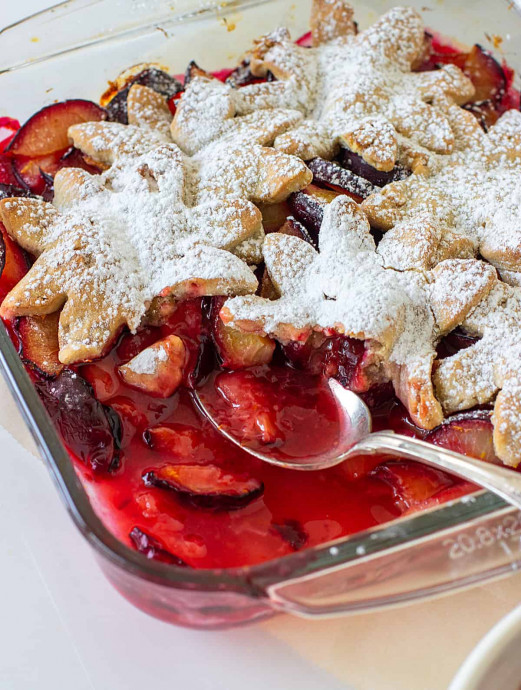 This is one of the best desserts I make during plum season. It comes together quickly and is ready in under an hour. I love it with my cinnamon pie crust but you can use just about any pie crust you want. The juicy plum layer bubbles up during baking creating a fantastic syrup! Serve it on its own or with a scoop of vanilla ice cream, it's a total crowd-pleaser.
By now you might have noticed I love fruit desserts, and cobblers are one of the easiest ones to put together. Especially is the topping is pie crust! Though I love a good old-fashioned cobbler with biscuit topping, there is a moment when my freezer is filled with bits and scraps of homemade pie crust. It's during those times when desserts such as this plum cobbler make an appearance.
What type of pie crust can you use? Any type! Homemade or store-bought. As long as you like it, it's good to go.
There are different types of cobbler toppings, the most common one being a biscuit topping. It's probably the one that comes to mind when thinking about making this dessert. But another great one is pie dough. Why? Because it's so darn easy and fast to put a fruit cobbler together and you get to use those leftover pieces!
Ingredients:
2 cups all-purpose flour
1 ½ teaspoons ground cinnamon
½ teaspoon salt
1 cup walnuts, chopped, optional
1 cup white sugar
½ cup unsalted butter, at room temperature
1 egg, at room temperature
½ teaspoon vanilla
For the filling:
2 pounds fresh plums, pitted and sliced into thin wedges
3-4 tablespoons sugar
1-2 tablespoons cornstarch
Zest and juice of 1 orange