Juicy Turkey Meatballs in Tomato Basil Sauce with Burrata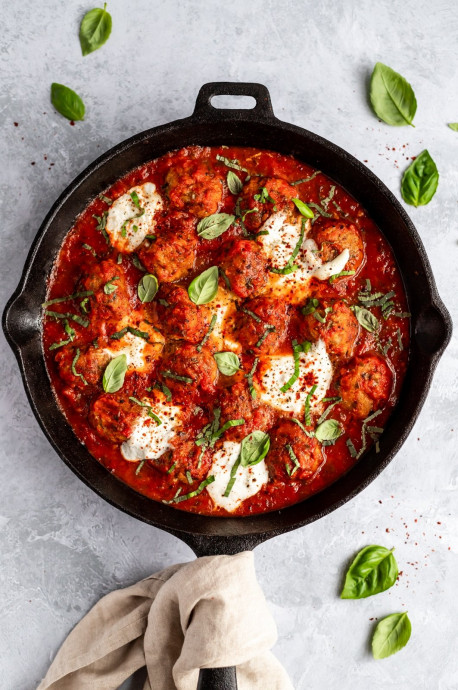 Healthy turkey meatballs simmered in a delicious, homemade spicy tomato basil sauce with creamy burrata cheese. These one pan homemade juicy turkey meatballs in sauce are savory, spicy, creamy and make a delicious weeknight dinner with your favorite pasta or even spaghetti squash!
I love making homemade meatballs using ground turkey rather than beef for a slightly leaner source of protein. One serving of these healthy turkey meatballs packs over 20g of protein! You can also use ground chicken if you'd like, or stick with beef if that's your jam.
These delicious homemade healthy turkey meatballs are simple to make with a few staple ingredients and plenty of spices. You'll need:
Lean ground turkey: I used 93% in this recipe so that there is still some juiciness to the meatballs.
Egg: to hold these babies together.
Panko breadcrumbs: to make sure these healthy meatballs stick together. I also have an option to use coconut flour if you want to keep these paleo or grain free/gluten free.
Fresh basil: for that yummy Italian flavor throughout the recipe.
Dijon mustard: a secret ingredient to give these meatballs a little zing.
Italian seasoning: gimme all of the herbs.
Amazing spices: cumin, garlic powder, cayenne pepper (if you like a little heat), salt and pepper.
Pasta sauce: you can use a pasta sauce of your choice (garlic, red pepper, tomato basil, or marinara), but I decided to use a simple good-quality tomato basil sauce since I wanted to jazz it up with my own herbs like fresh basil. I've even added mushrooms to the sauce to jazz it up – so good!
Red pepper flakes: add a kick of heat to your smooth, sweet tomato basil sauce (leave out if you don't want a spicy sauce).
Burrata cheese: can't go wrong with gooey cheese, but feel free to leave out to keep this recipe dairy free and/or paleo. Fresh or shredded mozzarella will also work.
Ingredients:
For the meatballs:
1 pound 93% lean ground turkey
1 egg
1/3 cup panko breadcrumbs (or if GF sub 2-3 tablespoons coconut flour)
2 tablespoons fresh basil, finely minced
1 teaspoon dijon mustard
1 teaspoon italian seasoning (or sub dried oregano)
1 teaspoon cumin
1/2 teaspoon garlic powder
1/4 teaspoon cayenne pepper
1/2 teaspoon salt
Freshly ground black pepper
For the sauce:
1 (24 ounce) jar your favorite pasta sauce (we love tomato basil)
4-6 large basil leaves, julienned
1/2 teaspoon red pepper flakes, plus more if you like it really spicy!
4-6 ounces Burrata cheese (or sub fresh mozzarella), cut into large pieces