Cilantro Pesto Pasta with Roasted Pumpkin & Honey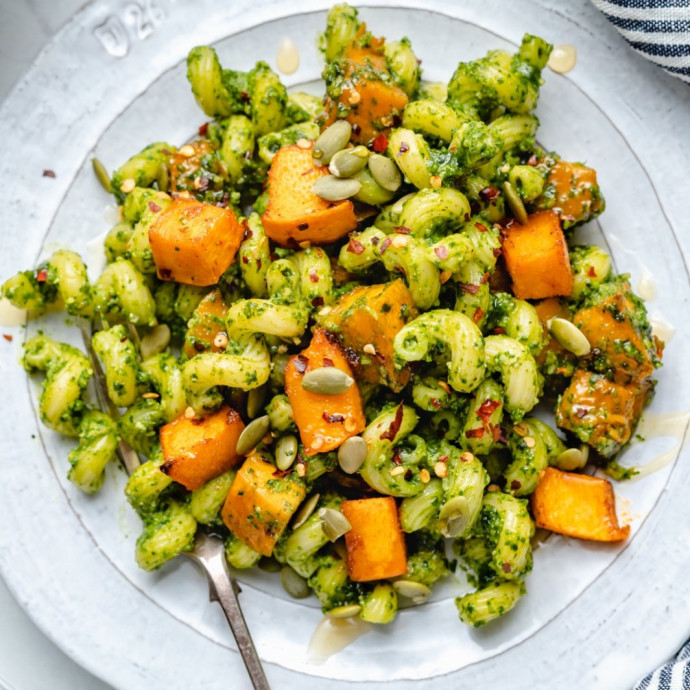 Incredible cilantro pesto pasta with roasted pumpkin, honey and a sprinkle of red chili flakes. This vegetarian pumpkin pesto pasta recipe is a delicious, fall take on regular pesto pasta with the addition of sweet & spicy roasted pumpkin, pepitas and plenty of cozy spices. Enjoy on its own or with your favorite proteins for the perfect main dish or side!
The pesto itself has a boost of veggies from spinach and is made with both pistachios and roasted pumpkin seeds (aka pepitas) because two is always better than one. That honey roasted pumpkin has incredible flavor from warming spices and adds a lovely sweetness to every bite. But enough chatter, it's time to get this gorgeous fall pasta dish on your dinner table. It makes the perfect main dish or side with your go-to proteins. Serve it up and enjoy!
Ingredients:
3-4 cups cubed pumpkin
1 tablespoon olive oil
1 tablespoon honey
½ teaspoon chili powder
1/4 teaspoon garlic powder
¼ teaspoon cayenne pepper
Freshly ground salt and pepper
For the pesto:
1 heaping handful cilantro (about 1 small bunch cilantro)
2 cups spinach
1/2 cup roasted pistachios (unsalted is best)
2 tablespoons roasted pumpkin seeds (pepitas)
1 small garlic clove
2-3 tablespoons olive oil
2 tablespoons water to thin the pesto
1 tablespoon fresh lime juice (from ½ lime)
1/4 teaspoon salt, plus more to taste
Freshly ground black pepper
For the pasta:
10 ounces cavatappi pasta (or pasta of choice)
To garnish:
1-2 tablespoons honey
Roasted pumpkin seeds (pepitas)
½ teaspoon red chili flakes (add ½ teaspoon more if you like it a little more spicy!)
Freshly ground salt and pepper