Creamy Vegan Mushroom Risotto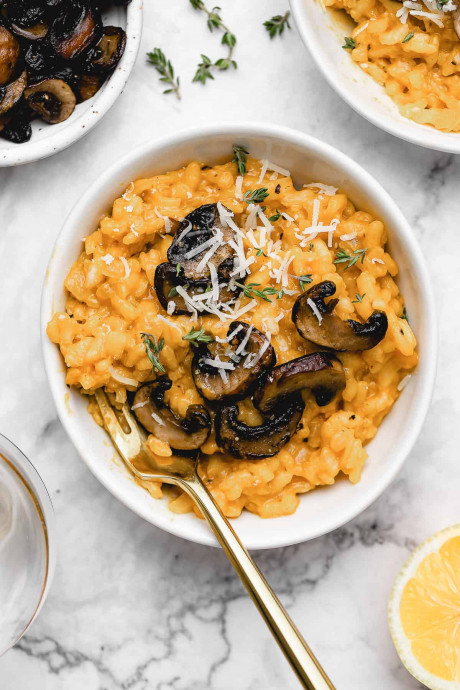 Creamy Mushroom Risotto is the ultimate comfort dish! It's so much easier to make than it seems. And, not only is homemade vegan risotto packed with caramelized mushrooms easy, it's healthy too!
One bite and I've declared that I've fallen in love with Paris. I'm also in Paris with my love, my newly wed husband, on our honeymoon.
The third thing I've fallen in love with? That would be the word champignons, making mushrooms a new favorite ingredient of mine. All in all, this is bliss.
Fast forward 6 years and I am finally remaking this dish so we can relive the tastiness that is creamy risotto.
How has it taken me this long to make Creamy Vegan Mushroom Risotto, you ask? Intimidation. But, I finally bit the bullet and decided to have a go at it. Boy, did the effort pay off. This homemade risotto is rich, savory, buttery… fill in the blank with your favorite culinary adjective.
Serve it as a side dish, or enjoy it as you would a bowl of pasta – as long as you try it, it really doesn't matter!
Ingredients:
1 tablespoon oil of choice
1 cup arborio rice
1/2 large white onion
3 cloves garlic minced or finely diced
½ cup dry white wine I used Sauvignon Blanc
3-4 cups vegetable broth*
1/2 teaspoon sea salt
1/2 teaspoon freshly ground black pepper
2-3 tablespoons vegan parmesan cheese homemade or store-bought**
1 tablespoon vegan butter***
1 tablespoon lemon juice or lime juice
Caramelized Mushrooms
8 ounces mushrooms any kind (shiitake would be great here, I used baby bella), cleaned and sliced, stems removed
1-2 tablespoons vegan butter or oil
sea salt to taste