Pan-Fried Pumpkin Gnocchi with Brown Butter Sage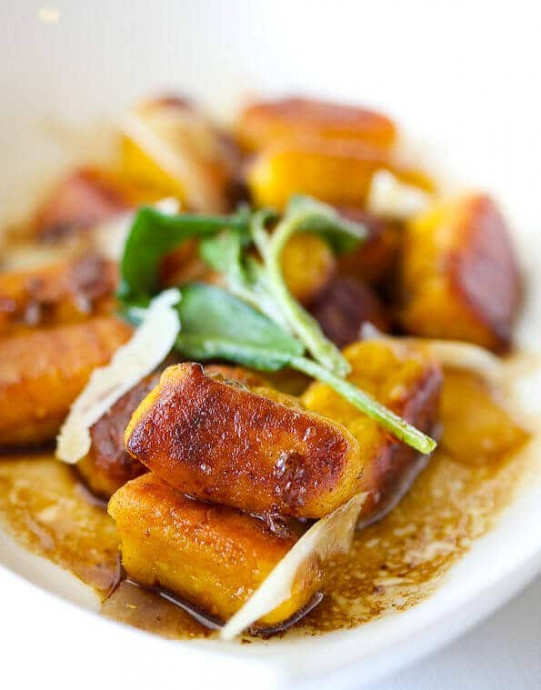 This is one of those perfect perfect fall-winter recipes that you must make for Thanksgiving. Because it's super-simple. If you've never made gnocchi before, please trust me that it's easier than you think…The secret to gnocchi is to have a light hand in the mixing. Overworking the dough will result in chewy, tough gnocchi. Use a spatula to mix the dough and then your fingertips to just turn the dough a few times to incorporate the rest of the flour. If you don't have a flour sifter or are just plain lazy like me, use a wire whisk to break up any clumps in the flour.
The brown-butter sage is incredible – it's a rich recipe, and only a little bit of the fragrant browned butter sage is needed (it's not meant to be a "sauce"). The balsamic vinegar in the sauce gives it a nice tang that cuts through the rich gnocchi. Use a good quality balsamic vinegar.
Ingredients:
1/2 cup skim milk ricotta
1/2 cup canned pumpkin
1/2 cup freshly grated parmegiano reggiano
1 large egg yolk
1 teaspoon lemon zest (use a microplane grater) (plus extra reserved for garnishing)
1 teaspoon kosher salt (or 1/2 tsp table salt)
1 cup all purpose flour, sifted plus more for dusting (see sifting tip above)
3 tablespoons butter, divided
2 tablespoon olive oil, divided
2 tablespoons good quality balsamic vinegar
3 sprigs fresh sage, plus more for garnish
shaved parmegiano reggiano for serving (use vegetable peeler)