Ham and Potato Pot Pie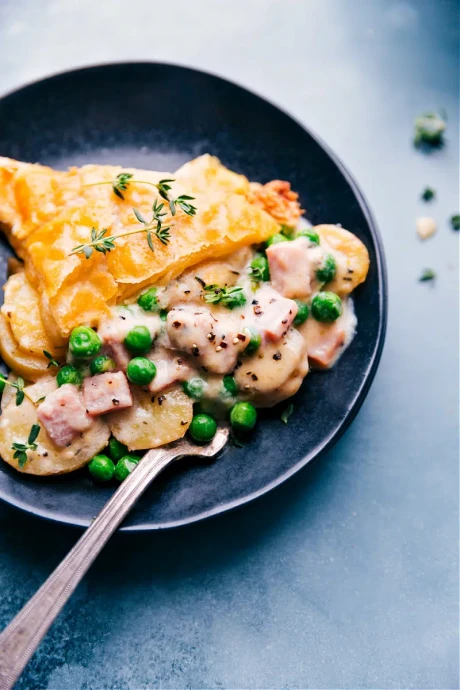 This Ham and Potato Pot Pie combines cheesy au gratin potatoes, sweet peas, and smoky ham in a delicious casserole topped with flaky puff pastry. This recipe is a mashup of some of my favorite cold-weather comfort foods — a pot pie, cheesy au gratin potatoes, and leftover holiday ham! We rolled it all together into one show-stopping recipe that everyone is going to go crazy for!
And while pot pies can often be time consuming and labor intensive to make, this one is relatively quick and easy. Especially if you've already got some leftover ham chopped up in the fridge! Once baked, this Ham and Potato Pot Pie is best enjoyed promptly. Leftovers store okay, but the puff pastry definitely softens and loses texture. Cover leftovers and keep in the fridge for 3-4 days. Reheat in the oven at 350 degrees F, covered with foil for about 20-25 minutes.
Ingredients:
3 cups (400g) thinly sliced Yukon Gold potatoes Note 1
2 tablespoons unsalted butter
2 tablespoons flour
1-3/4 cup whole milk
3/4 teaspoon each: onion powder, garlic powder, dried thyme, dried oregano
Fine sea salt and pepper
2 cups (285g) chopped ham Note 2
1-1/2 cups (200g) frozen sweet peas
1 cup (85g) freshly grated sharp cheddar cheese
1/2 cup (37g) freshly grated Parmesan cheese Note 3
1 frozen puff pastry dough Note 4
1 large egg
Optional: fresh thyme