The Best Vegan Potato Salad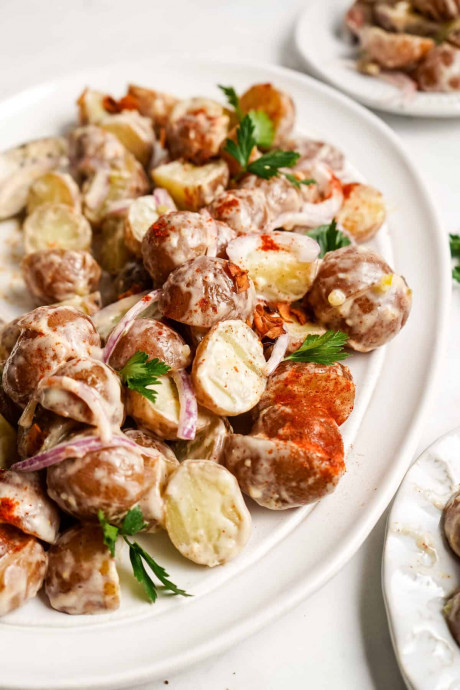 This loaded Vegan Potato Salad is a phenomenal potato side dish that you'll want to serve with everything! It's creamy, has amazing texture, and is topped with divine homemade coconut bacon! I'm just going to call it ahead of time: With one bite, you're going to fall head-over-heels in love with this Vegan Potato Salad recipe! It has a beautiful mix of flavors and textures that all come together to create one of the best starch side dishes ever.
Anyway, these tender potatoes are mixed in with tangy dijon mustard, diced red onion, paprika, and a number of other spices. As if all that wasn't already divine, the cherry on top is the coconut bacon, which we'll get to in a bit.
Keep your leftover vegan potato salad in the fridge, in an airtight container, for 2-3 days. It makes a great light lunch, and you can add more veggies to make it more filling if you like.
Ingredients:
Loaded Vegan Potato Salad
2 lbs potatoes cubed
½ medium red onion 74g
2 tablespoons dijon mustard
3 tablespoons organic relish
½ teaspoon paprika
½ teaspoon garlic powder
½ teaspoon sea salt
½ teaspoon ground black pepper
¼ to ½ cup vegan mayonnaise
Coconut Bacon
2 cups unsweetened coconut flakes – I use this brand
2 tablespoons liquid aminos
1 tablespoon liquid smoke
1 tablespoon maple syrup
1/4 tsp smoked paprika for colour