Turkey Ala King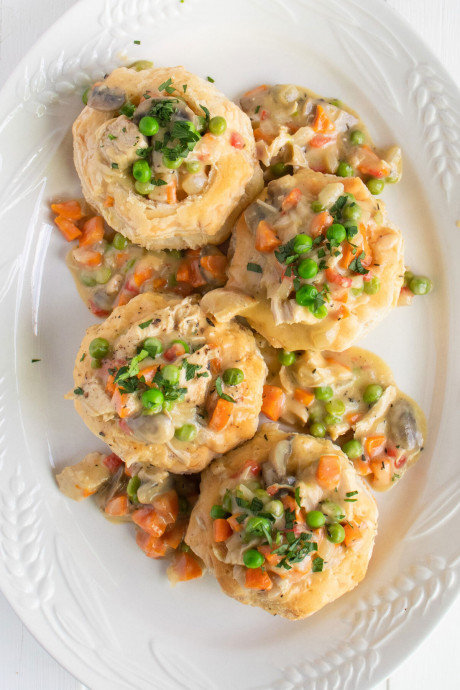 What better way to use up your leftover Turkey than in an elegant meal like Turkey ala King? This delicious dinner recipe will make you look like a master chef, especially if you serve it a few days after an already successful Thanksgiving meal!
Ready to blow the minds of your family and friends? This dish will do it! You'll be coming off of a super successful Thanksgiving dinner, especially if you used some of my Grandma's Thanksgiving Recipes and this recipe is a killer way to make use of those Turkey leftovers (it's also delicious, obviously!).
Time to chop up those leftovers, throw that puff pastry in the oven and get ready to impress your taste buds. Most turkey ala king recipes you find online use some sherry (or a type of sherry) as part of the liquid for this recipe, but this one uses white wine.
While the former would certainly be a good substitute for the wine if you happen to have it, the average person is a lot more likely to have some white wine on hand rather than a bottle of sherry, hence our choice to use the wine instead. The key here is to add a little bit of acidity and depth of flavor, so the precise choice of alcohol isn't as critical as one might think. In fact, if you wanted to avoid alcohol in general, you could just a little bit of your preferred vinegar and maybe a little more turkey broth to add some depth of flavor as well.
Ingredients:
2 tablespoons butter
1/2 cup diced white onion
1 cup sliced button mushrooms washed
1 cup diced carrots
1 clove minced garlic
2 1/2 cups chicken broth
2 tablespoons white wine
1/4 teaspoon celery salt
1/2 teaspoon dried thyme
1/2 cup heavy cream
2 tablespoons cornstarch
3 cups chopped cooked turkey breast Or leftover turkey
1/2 cup frozen green peas defrosted
3 tablespoons chopped jarred pimentos
salt and pepper
12 vol-au-vent puff pastry shells