DIY Popeyes Chicken Sandwich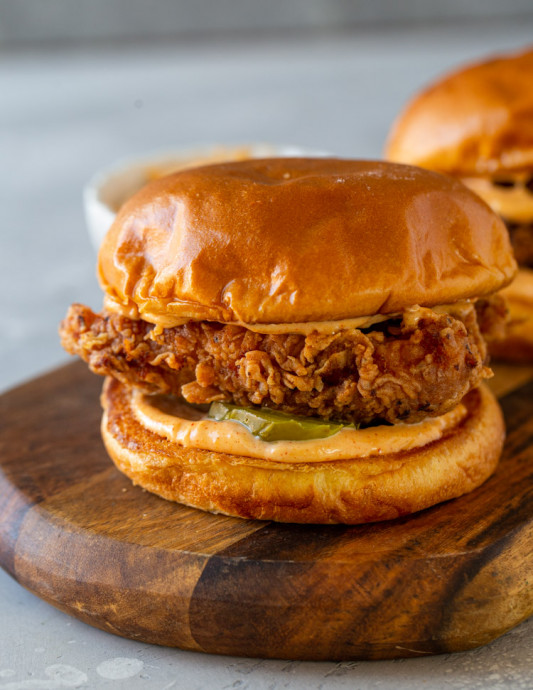 This delicious crispy Fried chicken Sandwich is super crispy on the outside and tender and juicy on the inside and loaded with spices. It's as close as you will get to the famous Popeyes chicken sandwich which is currently sold out everywhere but in my opinion, it's so much BETTER and surprisingly easy to make at home!
The sandwich comes together in under 30 minutes and can be prepared overnight. The chicken is first marinated in buttermilk and spices then battered in a mixture of flour, corn starch, and MORE spices. The spices give the sandwich so much flavor but more importantly, they give it a crispy crust that is out of this world. Learn how to make Popeyes Buttermilk fried chicken at home. This super crispy and tender recipe tastes 1000x better homemade!
Ingredients:
For the chicken marinade
2 boneless skinless chicken breasts
1 cup buttermilk
1 teaspoon EACH paprika garlic powder, black pepper, salt
For Breading
1 cup flour
½ cup corn starch
1 tablespoon EACH paprika garlic powder, onion powder, cayenne pepper (for spicy)
1 teaspoon EACH salt & pepper
Spicy mayo
½ cup mayo
1 teaspoon hot sauce
1 teaspoon or cajun or taco seasoning
1/2 tsp
TO ASSEMBLE
4 medium-sized brioche buns
Mayonnaise
Sliced pickles
3-4 cups canola oil for frying