Biscuit & Vegetable Pot Pie (Casserole)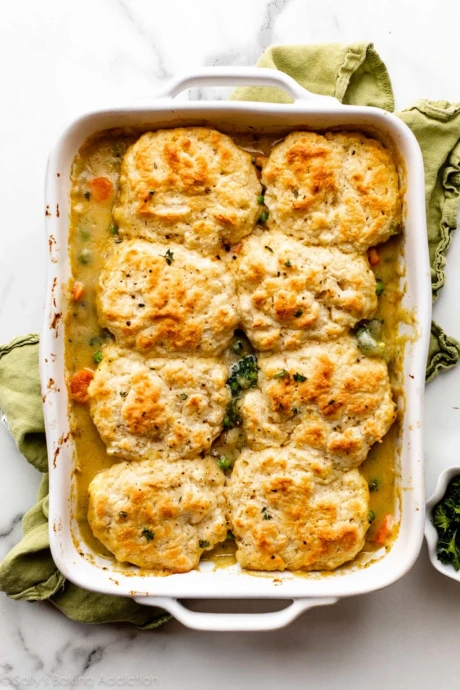 Pot pie is always a satisfying cold weather comfort food and this hearty biscuit vegetable pot pie is no exception! The casserole is filled with wholesome savory flavor and plenty of vegetables including mushrooms, peas, broccoli, and carrots. The ultimate pairing for the creamy filling is a simple homemade biscuit topping. Made from 5 easy ingredients, the biscuit topping comes together in minutes and you can even prepare it ahead of time.
Is this pot pie or casserole? Maybe both? Pot pie is usually prepared with pie crust and baked in a pie dish. It's so satisfyingly delicious and my double crust chicken pot pie is our go-to when we crave the regular version. But today I'm showing you how to make a vegetable-filled rendition topped with biscuits. After cooking the creamy filling on the stove, you can bake the assembled casserole in a deep-dish pie dish or any 2.5-3 quart casserole dish. Though I'm always a pie crust aficionado, my family prefers the biscuit topping! (And it's easier to make, assemble, and serve too… a win-win-win.)
This hearty vegetable pot pie is served casserole style with a 5 ingredient homemade biscuit topping. Some of my favorite vegetables to use are mushrooms, carrots, broccoli, peas, and cauliflower.
Ingredients:
Biscuits
2 cups (250g) all-purpose flour (spoon & leveled), plus extra for hands
1 Tablespoon baking powder (yes, Tablespoon!)
1/2 teaspoon salt
6 Tablespoons (85g) unsalted butter, cold and cubed
1 cup + 2 Tablespoons (270ml) whole milk, divided
Filling
1/4 cup (4 Tablespoons; 60g) unsalted butter
1 cup chopped yellow onion (1/2 of a large onion)
1 cup sliced or diced carrots (1–2 large carrots or a handful of baby carrots)
1 cup sliced or diced celery (2–3 stalks)
1 cup (120g) roughly chopped mushrooms
3–4 garlic cloves, minced
1/3 cup (42g) all-purpose flour (spoon & leveled)
1 teaspoon salt
1/2 teaspoon fresh ground pepper
2 teaspoons fresh thyme leaves (or 1 teaspoon dried)
2 cups (480ml) vegetable broth
1/2 cup (120ml) whole milk
2 cups (about 300g or 10 ounces) mixed vegetables (such as frozen peas, frozen or fresh broccoli and/or cauliflower florets, see note)
2 Tablespoons chopped fresh parsley (or 2 teaspoons dried)