Breakfast Strata With Corn And Chiles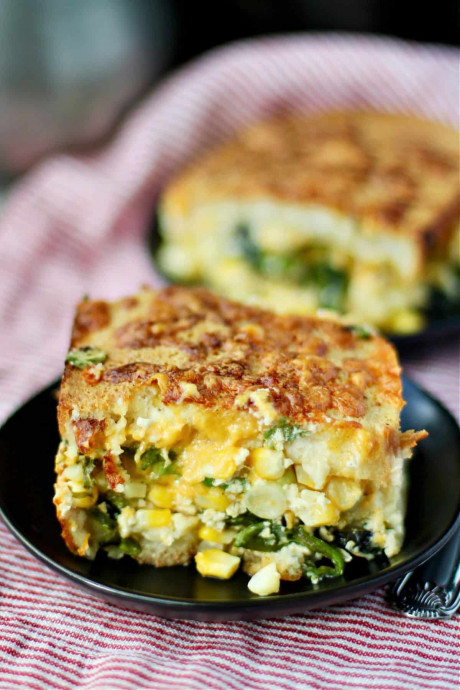 This strata, filled with sweet corn and roasted poblano chiles, is a wonderful make-ahead breakfast, perfect for Sunday brunch, holiday mornings, or breakfast potlucks.
Strata is a layered casserole of bread, vegetables, cheese, all held together with milk and eggs. You assemble the ingredients the night before, and then bake the casserole the next morning.
The milk and eggs soak into the bread overnight and all of the ingredients meld into a delicious savory, cheesy and custardy breakfast. Plus, it's filled with lots of delicious sweet corn. It's almost like a sweet corn sandwich!
You can vary the ingredients, including adding bacon or sausage if you like. Or, serve this one with a side of bacon and a fruit salad or green salad.
A lot of strata recipes call for breaking up the bread into chunks, like a bread pudding. Because strata means layers in Latin, I went the traditional route of layering the bread on the bottom and top, with the sweet corn and roasted peppers in the middle.
Ingredients:
1 1/2 pounds poblano chiles, halved lengthwise, stems, seeds, and ribs removed
3 ears sweet corn, husks removed
2 1/2 cups whole milk
6 large eggs
1/2 teaspoon salt
1/2 teaspoon ground black pepper
1/4 teaspoon ground nutmeg
4 tablespoons unsalted butter, melted
White halves of 4 scallions, thinly sliced
1/3 cup chopped fresh cilantro
8 ounces sharp cheddar cheese, grated
About 6 to 8 3/8 inch thick slices of white, French, or Italian bread (not sourdough)