Vegan Grapefruit Sugar Cookies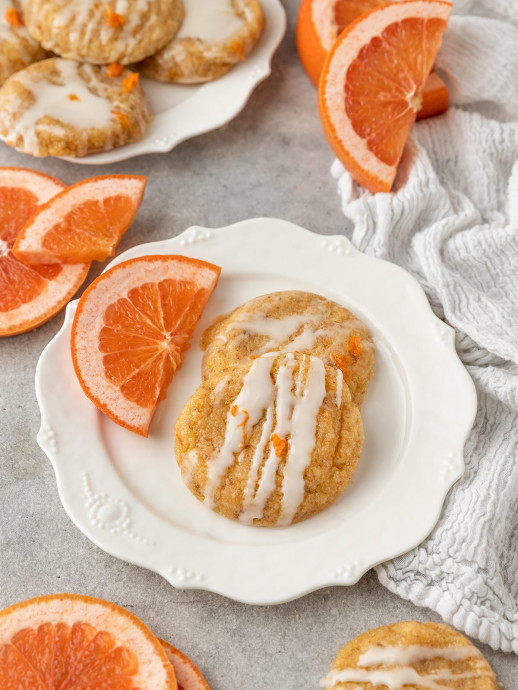 The soft & chewy Vegan Grapefruit Sugar Cookies are made in one bowl and only require 10 ingredients. Plus, they are topped with the best 2-ingredient grapefruit icing for a perfectly tart & sweet grapefruit cookie recipe!
The first thing to do is cream together the vegan butter, sugar, and grapefruit zest. Creaming butter with sugar gives these cookies a fluffier soft texture. Just make sure to set aside 2 Tablespoons of the sugar for later! Plus, the best way to incorporate flavor into cookies is by mixing the zest with the fat which is why we add the grapefruit zest at this point.
After mixing the dough will be pretty sticky. That's reason number one why I recommend chilling the dough for 30 minutes-1 hour in the fridge. It just makes it easier to scoop! The second reason is it actually makes these cookies sweeter as the sugar will absorb some of the moisture during this chill time. I promise it's worth the wait! Like all of my sugar cookie recipes, these are perfectly chewy, soft, & packed with flavor!
Ingredients:
Grapefruit Cookies
½ cup vegan butter
½ cup+ 2 Tablespoons sugar ½ cup for dough, 2 Tablespoons for rolling before baking
2 teaspoons grapefruit zest
2 Tablespoons grapefruit juice
2 Tablespoons ground flaxseed
2 teaspoons vanilla bean paste or vanilla extract
1 cup+ 3 Tablespoons all-purpose flour
½ teaspoon baking powder
¼ teaspoon salt *use ½ tsp if using unsalted butter
Grapefruit glaze
½ cup powdered sugar sifted
1 Tablespoon grapefruit juice