Vanilla Cupcakes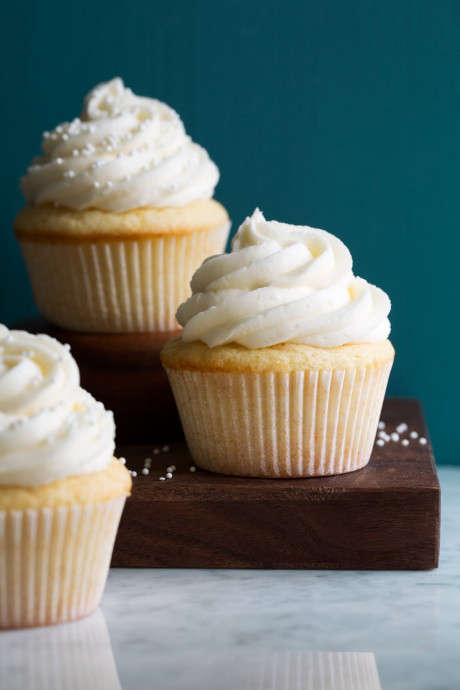 These are light and fluffy, soft and tender, deliciously sweet and brimming with vanilla flavor.
They'll quickly become the highlight of any celebration! I like to use a blend of the two flours because by using cake flour we can add a little more liquid and it also makes cupcakes softer and more tender and fluffy.
Using all cake flour can have a tendency to dry cupcakes out some so I prefer the blend here. If you don't have cake flour, you can use the cake flour substitute of all purpose flour and cornstarch. DIY cake flour ratio here would be 1/2 cup + 1 Tbsp all-purpose flour whisked with 4 tsp cornstarch. Keep in mind the cupcakes just won't be quite as soft and fluffy, but still delicious! Use a kitchen scale if you have one to measure ingredients for the most accuracy (I like this one here).
For best results use room temperature ingredients. If cake flour is very clumpy sift before using. Same with the powdered sugar. Be careful not to over-mix the batter or cupcakes may end up dense and possibly even be chewy.
Ingredients:
2/3 cup (86 g) cake flour (scoop and level to measure)
2/3 cup (95 g) all-purpose flour (scoop and level to measure)
1 1/2 tsp baking powder
1/4 tsp (heaping) salt
3/4 cup (150 g) granulated sugar
1/2 cup (113 g) unsalted butter, brought to room temperature
2 large eggs, brought to room temperature
1/3 cup (80 ml) whole milk, brought to room temperature
1/3 cup (80 ml) buttermilk, brought to room temperature
2 tsp vanilla extract
Vanilla Buttercream Frosting
1/2 cup (113 g) unsalted butter, brought to room temperature
1/4 cup (56 g) salted butter, brought to room temperature
2 1/4 cups (270 g) powdered sugar
2 Tbsp heavy cream
1 tsp vanilla extract