Sheet Pan Quinoa Pilaf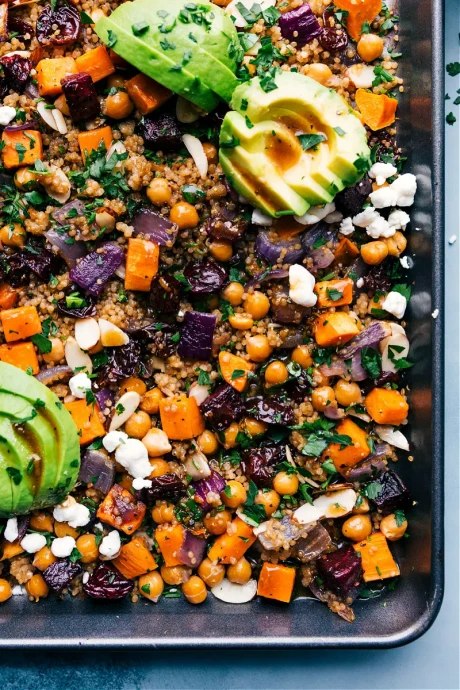 Try Sheet Pan Quinoa Pilaf — we roast veggies and quinoa all on two sheet pans and then toss it all together with an irresistible balsamic dressing!
Packaged rice made that dinner prep ridiculously easy and the clean-up even faster.
So why not take the same concept — roasting rice on a sheet pan — and apply that to quinoa? Well, we've gone there and I'm personally never looking back. This Sheet Pan Quinoa Pilaf is ridiculously tasty, robustly flavored, and the cleanup is kept to a minimum! And while this recipe is vegetarian, it actually has a good amount of plant-based protein, thanks to the quinoa and chickpeas — more on this below. Start by prepping the veggies: chop the sweet potatoes, red onion, and beets. Add beets to one pan with olive oil, salt, & pepper. Add sweet potato and onion to the other pan with olive oil, salt, and pepper. Roast. Meanwhile, drain, rinse, and dry the chickpeas. We toss the beets and return them to the oven. We stir the sweet potatoes and onion, add the chickpeas and return to the oven. Continue roasting and use this time to prepare the dressing — add everything to a jar and shake to combine!
Remove both sheet pans again and test for doneness on the beets; if they aren't quite tender, return them to the oven. On the other sheet pan, add the quinoa, almonds, and dried cherries (or cranberries). Roast this pan for just a few more minutes to warm the quinoa, get the cherries tender, and slightly toast the almonds.
Remove both sheet pans from the oven, add the beets to the other sheet pan and drizzle the dressing on everything. Toss and add any desired toppings.
And that's it! You've got your veggies and quinoa all deliciously seasoned in one sheet pan and in under an hour of time!
Ingredients:
Sheet Pan
2-1/3 cups (12 oz.; 320g) red beets, tops removed, peeled, 1/2-inch dice (~3 beets)
3 cups (13 oz.; 385g) sweet potatoes peeled, 1/2-inch dice (~2 potatoes)
1 large red onion, peeled, halved, & 1-inch dice
Extra virgin olive oil, fine sea salt, and pepper, for roasting
1 can (15.5 oz.; 439g) chickpeas, drained & rinsed
2 packets (8 oz.; 227g EACH) microwave packet quinoa Note 1
1/3 cup (42g) dried tart cherries (or dried cranberries)
1/3 cup (34g) sliced almonds
Optional: goat or feta cheese, fresh parsley, 1 large Hass avocado, diced
Dressing
1 teaspoon minced garlic
2 tablespoons (31g) balsamic vinegar
2 clementines (or 1 orange) (1 tsp zest, 2 tbsp (30g) juice)
1 tablespoon (20g) honey use agave nectar for vegan
1-1/2 teaspoons (9g) Dijon mustard
1/3 cup (61g) extra virgin olive oil