Baked Lemon Chicken and Potatoes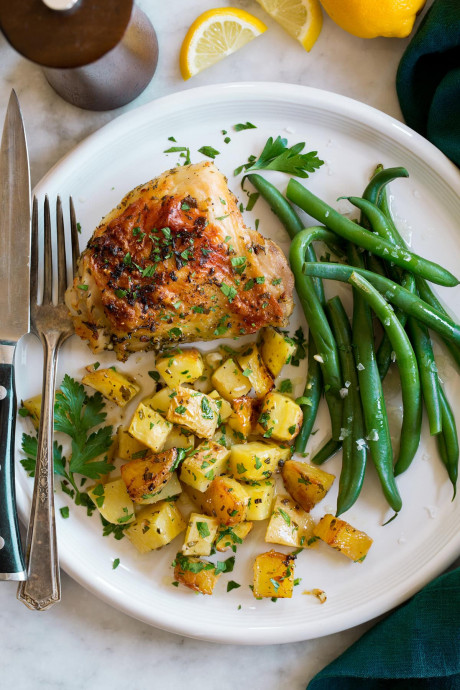 A vibrant chicken and potatoes recipe! Yukon gold potatoes and hearty chicken thighs are tossed with a lemon, garlic, and herb seasoned oil and baked on a single sheet pan until browned, tender and distinctively delicious!
There's something about this time of year, when autumn hits the air, that makes a cozy sheet pan dinner seem just right. It's just hearty, homestyle meat and potatoes goodness.
Not only is this one pan chicken and potatoes recipe undeniably easy, it's also a dinner that's brimming with well balanced, bright and rich flavor.
It's an all in one, no fuss recipe. You just toss the potatoes with a half of a homemade simple lemon dressing, then the toss the chicken with remainder. Spread everything over a baking sheet and roast until it's all cooked through.
Ingredients:
6 large (7 oz each) bone-in skin-on chicken thighs
1/4 cup olive oil
1 Tbsp lemon zest
1/4 cup lemon juice
2 Tbsp minced garlic
1 Tbsp chopped fresh thyme
1 Tbsp chopped fresh rosemary or oregano
5 Tbsp chopped fresh parsley, divided
Salt and freshly ground black pepper
2 1/2 lbs Yukon gold potatoes, cut into 2/3-inch cubes