Spooky Halloween Marble Cake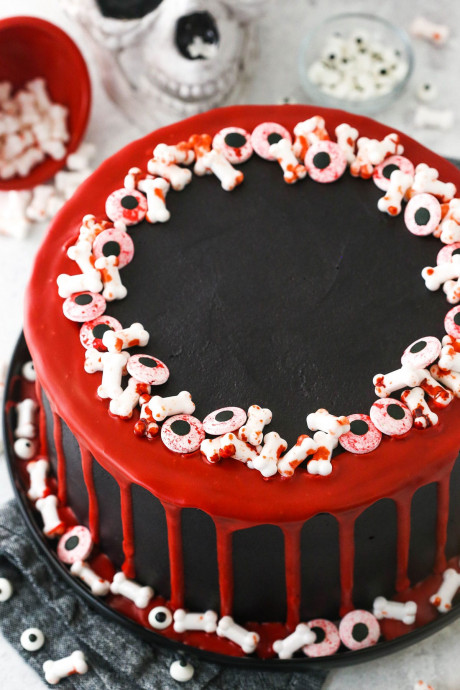 This is the perfect Spooky Halloween Marble Cake for your Halloween parties! The red and black marble cake is decorated with drippy red "blood" with bloody bones and bloody eyeball sprinkles! I'm so excited to share this cake with you today. It might be some of the most fun I've had making a cake in a while. I've had the bloody bones sprinkles that are used on the cake hanging around my sprinkle collection for quite some time and I finally decided to use them. They inspired this cake and I'm so glad they did.
While Halloween colors are often orange and black, there's no doubt that the spookier combination is red and black. "Spooky" is definitely the word of the month in our house. The boys are so much more into holidays and such this year and their favorite word for Halloween decorations is "spooky". Well, in the interest of being spooky and playing off of the bloody bones, red took orange's place in this cake.
And it's definitely a delicious cake too! The red is the vanilla part of the marble cake and the black is the chocolate. The black buttercream is also chocolate. In fact, you can't really color vanilla buttercream with black. It just won't get dark enough. So you need chocolate buttercream to provide a brown base to start with. You will need a good bit of black gel icing color to get a nice black color.
I'm truly in love with this cake. It's so fun and really not hard to make. Plus, it's super yummy. The perfect statement cake for Halloween.
Ingredients:
Marble Cake
2 1/4 cups (293g) all purpose flour
2 1/2 tsp baking powder
1/4 tsp baking soda
1/2 tsp salt
1/2 cup (112g) unsalted butter, room temperature
1/2 cup vegetable oil
1 1/2 cups (310g) sugar
1 tbsp vanilla extract
4 large eggs
1 cup (240ml) buttermilk*
5 oz bittersweet chocolate (60% cacao), chopped**
Black gel icing color
Red gel icing color
Chocolate Buttercream
2 1/4 cups (504g) unsalted butter
8 cups (920g) powdered sugar
1 cup (114g) natural unsweetened cocoa powder
2 tsp vanilla extract
5–7 tbsp (75-105ml) water/cream
1/4 tsp salt
Black gel icing color
Red Drip
4 oz red Wilton candy melts
2 tbsp heavy whipping cream
Sprinkles (see notes)