Easy Caramel Apple Dump Cake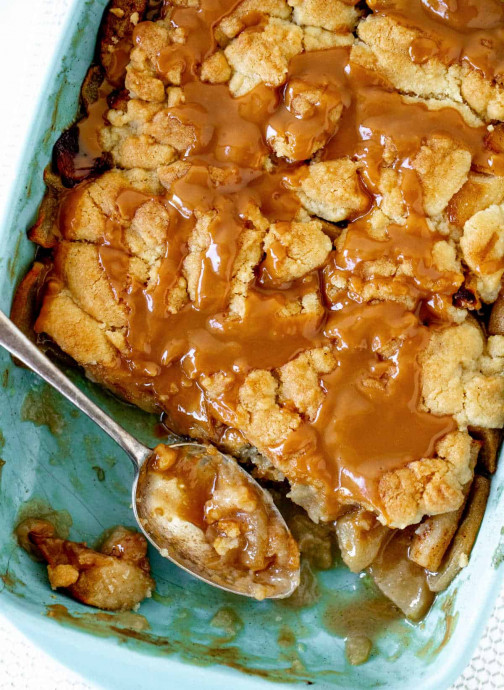 This is a very simple recipe that combines favorite flavors: caramel, cinnamon, and apples. A layer of sweet pie filling is topped with the easiest 2-ingredient crumble for an easy dessert everyone will rave about. Similar to an apple cobbler, it's fall baking at its best.
I don't know about you, but in this house, when apple season hits, the combination of apples and caramel is something we consider to be at the top of our list. Well, this is the perfect dessert probably and a great recipe to make often.
About this apple dessert
Easy to make: making the apple pie filling from scratch is quite simple, but you can use the canned type to make your life easier. Especially if you already use a brand you love.
Make ahead: just like a cobbler or an apple crisp, you can make this dessert a few days ahead of when you're planning to serve it and keep it refrigerated. Or even frozen for a few weeks. Simply defrost and warm in the oven before eating it.
Perfect for a crowd: if you have guests or a large family, it's a very easy apple dessert to put together that can be easily doubled, and guaranteed to be a crowd pleaser.
Ingredients:
For the topping:
2 cups yellow cake mix or white cake mix (half an 18oz box)
½ cup butter, melted
For the apples:
4 pounds Granny Smith apples (about 10 medium)
4 tablespoons unsalted butter
4 tablespoons white or brown sugar
1 teaspoon ground cinnamon
1 ½ tablespoons cornstarch
3 tablespoon lemon juice
⅓ cup of water
Caramel sauce or dulce de leche, for serving