Tater Tot Casserole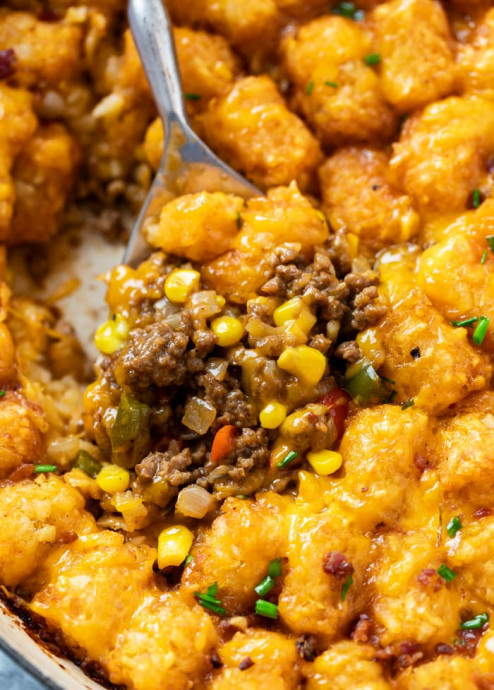 When it comes to easy comfort foods, there's nothing better than tater tot casserole. Especially this recipe. You'll never taste one quite like this. Check out the ingredients compared to others out there. This can be made completely from scratch, with an optional addition of cream of mushroom soup to keep it traditional.
I like to make my tater tot casserole a bit differently than most recipes I've seen. It's still super easy, but has much more depth of flavor to it than just ground beef, seasoning, and canned soup. In fact, the canned soup is completely optional in this recipe.
I took inspiration from my easy shepherd's pie, homemade sloppy joes, and my brown gravy recipe to create a beefy base that is FULL of flavor. Top it off with corn (or your veggie of choice), cheese, and tater tots.
When I say that this beefy base is full of flavor, I'm talking ketchup, mustard, tomato paste, onions, garlic, bell peppers, and a homemade gravy with simple seasonings.
This is baked at the perfect temperature to ensure super crispy tater tots on top of this delicious casserole.
Ingredients:
1 lb. Ground Beef
1 small yellow onion, diced
2 cloves Garlic, minced
1 cup bell peppers, diced- any color
2 teaspoons Ketchup
3 teaspoons Yellow Mustard
1 Tablespoon tomato paste
2 Tablespoons Flour
1 cup frozen corn
2 ½ cups Cheddar Cheese, separated
32 oz. Tater Tots, frozen
For the Gravy/Sauce:
2 cups Beef Broth
1 chicken bouillon
1 teaspoon Soy Sauce
1 teaspoon onion powder
½ teaspoon garlic powder
Optional
10.5 oz. low sodium cream of mushroom soup