Oven-Roasted Veggies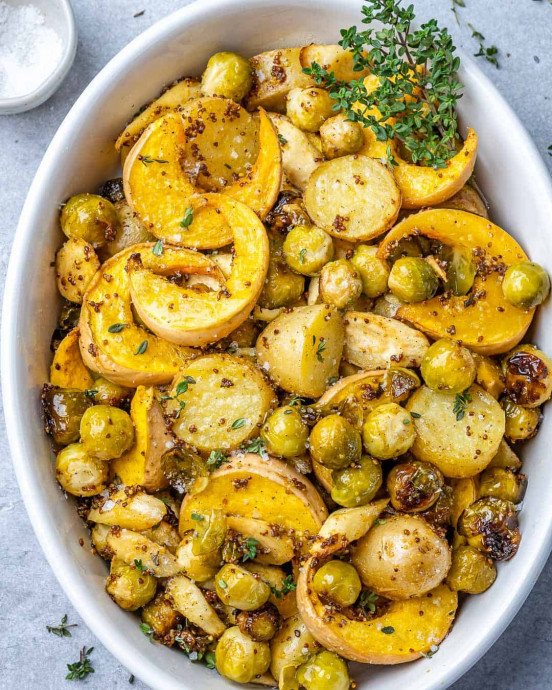 This roasted veggies recipe is hands-down, one of the most flavorful side dish vegetable recipes out there. With butternut squash, parsnips, and Brussel sprouts, the vegetables themselves provide an array of flavors, and then they're topped with a simple mustard sauce.
The variety of flavors in the dish really make it almost melt in your mouth. They're great for meal prep too. We love making a big batch of roasted vegetables at the beginning of the week to have ready for dinner the rest of the week. Since these oven-roasted vegetable pair with almost any dinner, they will be perfect with whatever you are making.
Yummy mustard flavor. These oven-roasted veggies are topped with a mustard sauce to make them a real show stopper.
Versatile to the veggies you have on hand. While my preferred roasted vegetable medley is listed below, you can adjust this recipe to whatever vegetables you have on hand.
An easy, healthy side dish. You really can't get much healthier than roasted vegetables for a side dish, no matter the meal.
Serve with any protein or make it a meal. Roasted vegetables pair easily with any protein and can also be turned into a meal on their own.
Roasted vegetables make a great side dish to be served with any protein. A few favorites are roasted veggies with steak, chicken, or fish. They'd make a great healthy side with Fish and Chips or Lemon Garlic Salmon as well as Cilantro Lime Chicken Bites.
You could also turn them into a meal on their own by serving them over quinoa or rice.
Ingredients:
3 tbsp olive oil
2 tbsp whole-grain mustard
3-4 garlic cloves minced or chopped
1 tbsp chopped fresh thyme
1 tbsp apple cider vinegar divided
1 tsp Kosher salt
1/2 tsp black pepper freshly ground
Vegetables:
1 small pumpkin or butternut squash 1 lb. or about 3 cups
1 pound parsnips peeled and cut into 1-in. pieces (about 2 1/4 cups)
1 pound Brussels sprouts trimmed and halved if big
1 pound potatoes halved or quartered