Baked Rigatoni Fra Diavolo with Sausage and Zucchini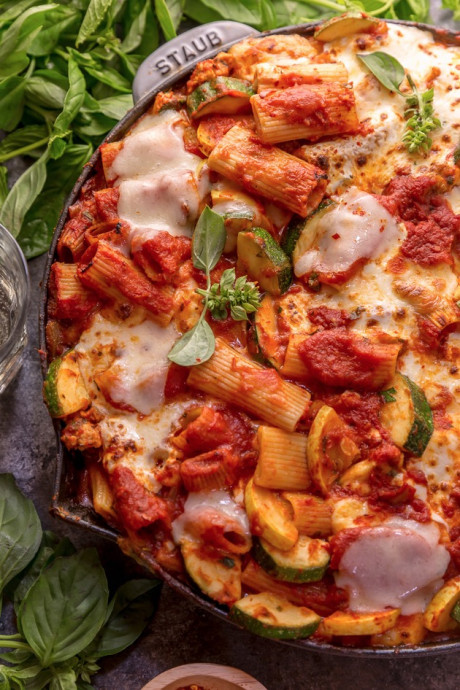 Preheat your oven to 350, because we're making Baked Rigatoni Fra Diavolo with Sausage and Zucchini for dinner tonight! Featuring a spicy tomato sauce loaded with fresh herbs, Italian sausage, tender zucchini, and tons of gooey cheese! This is Summer comfort food at its best!
And bonus: you can make and assemble most of this ahead of time. Then cover with foil and bake when needed.
Like all pasta recipes, you'll bring a large pot of water to a boil. Unlike all pasta recipes, you'll want to undercook the pasta! So when you toss the rigatoni into the boiling water, set a timer and only cook it for 7 minutes! You want the pasta VERY al dente (aka not cooked all the way!). Because it will continue to cook in the oven! Over cooking the pasta will lead to mushy noodles. Drain the pasta, quickly rinse it under cool water, then set aside.
If you're not a fan of spicy food, you may reduce the crushed red pepper flakes or completely omit them from the recipe.
To ensure the sausage is completely cooked through, you'll want to cook, stirring occasionally, over medium high heat and heat until browned.
And to ensure the zucchini doesn't get soggy, you'll also cook that separately, remove it from the pan, and blot off any excess water and oil. This might sound strange, but trust me, it's worth it!
Finally, I suggest using a combination of shredded and cubed cheese. So you'll shred one cup of mozzarella and cube the other. This leads to maximum melted gooey cheese goodness!