Stuffed Pepper Soup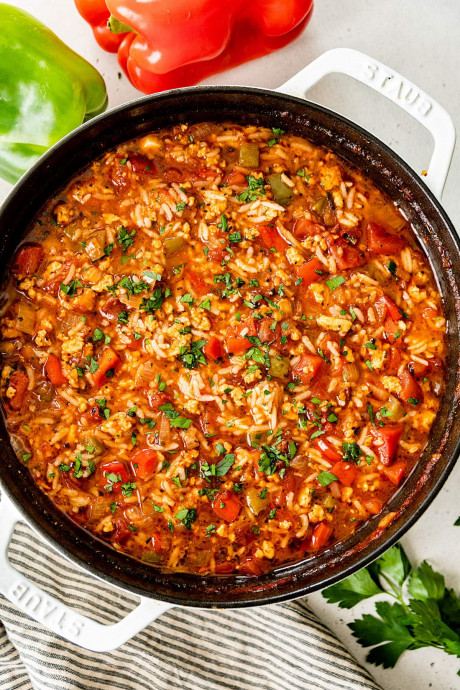 Stuffed Pepper Soup- this hearty soup tastes just like stuffed peppers. It is made with basic ingredients like ground beef, rice, and of course bell peppers! You are going to love this one pot meal.Soup season is my favorite season. You can't be a one pot meal!
If you are a fan of the traditional stuffed bell peppers, you are going to LOVE this soup. It has all of the same flavors, but is super easy to make! Instead of stuffing individual bell peppers, you put all of the ingredients in one pot and make a comforting soup!
This is a great soup for the end of summer when your garden is bursting with peppers or anytime during the chilly fall and winter months when you are craving a big bowl of soup!
If you are going to enjoy the soup right away, stir in the cooked rice. If you plan on freezing the soup or eating leftovers for a few days, you can ladle the soup into bowls and add rice to each bowl. This will prevent the rice from getting mushy.
Top each bowl with shredded cheese and enjoy warm!
Ingredients:
1 lb lean ground beef (can use ground turkey or ground chicken)
Kosher salt and black pepper, to taste
1 tablespoon olive oil
1 yellow onion, chopped
1 red bell pepper, seeded, stemmed, and chopped
1 green bell pepper, seeded, stemmed, and chopped
4 cloves garlic, minced
2 (14.5 oz) cans fire roasted tomatoes
15 oz tomato sauce
2 cups beef broth
1 teaspoon dried basil
1/2 teaspoon dried oregano
1/2 teaspoon dried thyme
1/4 teaspoon crushed red pepper flakes
2 cups cooked brown or white rice
Shredded cheddar or mozzarella cheese, for serving
Chopped Italian parsley, for garnish, optional