Red Beans and Rice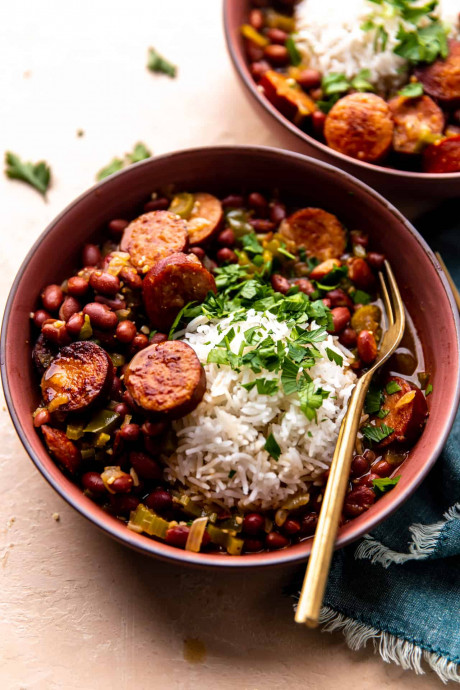 This classic Red Beans and Rice recipe is bold and flavorful. Packed with tender beans and spicy sausage, this comforting meal is sure to fill you up!
Red Beans and rice is a true southern classic, coming straight from Louisiana! This dish is big on flavor, but easy on your time. Made with red beans, andouille sausage and a variety of veggies. Add some white rice, sprinkle with some fresh parsley, and enjoy this comforting meal!
The combination of meat and beans are cooked together in a flavorful, spiced broth and served over white rice.
Quick and easy: using sausage and canned beans helps this dish come together quick and easy, making it a great weeknight family dinner option.
Fiber & Protein: this homemade recipe is loaded up with vegetables, fiber and protein, making it a healthier option for your family. Grab a whole grain rice to complete it!
Ingredients:
1 cup long grain white rice/or basmati rice
1 Tbsp extra virgin olive oil
12 ounces smoked andouille sausage, sliced
1 small onion , diced
1 green bell pepper , diced
2 celery stalks , diced
3 cloves garlic , minced
1½ tsp cajun seasoning
3 cups chicken broth, unsalted
2 (16 ounce cans) red beans, drained and rinsed
½ tsp Cayenne
⅛ tsp ground sage
1 tsp salt, more to taste
¼ tsp ground black pepper, more to taste
1 bay leaf
2 tbsp fresh parsley, diced