Southwestern Turkey Stuffed Peppers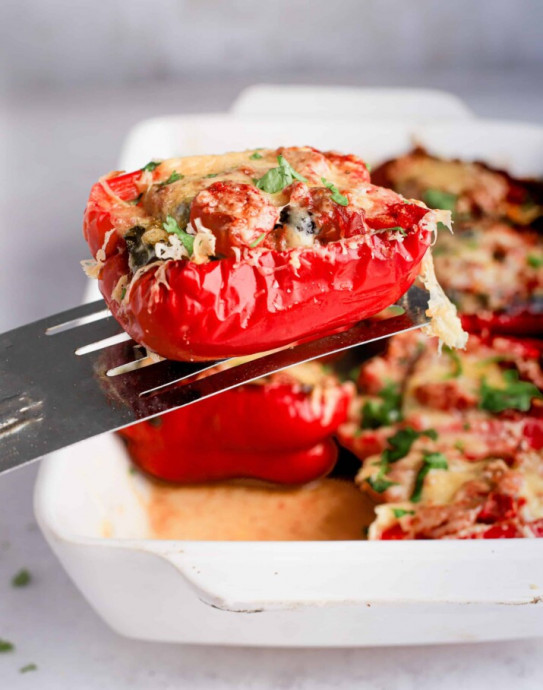 No one can resist the savory goodness packed into these Southwestern Turkey Stuffed Peppers. They're easy to make with ground turkey, fire roasted tomatoes, black beans, Monterey Jack cheese and more – perfect weeknight dinner and easy to prep!
Whenever I open the oven to a baking dish full of bright stuffed peppers with bubbling cheese on top, I know that my dinner is about to be a hit. No matter what time of year it is, these juicy red peppers stuffed with turkey and veggies will remain in your dinner rotation. A diced poblano pepper provides a kick of spiciness that's complimented by the garlicky roasted tomatoes and the melty Monterey Jack cheese.
And there's more than just yumminess stuffed into these sumptuous peppers. This hearty meal contains plenty of protein and nutrients to fuel your body! So if you like Southwestern flavors and love a healthy family dinner, this easy recipe will check off all your boxes.
Pretty much any side dish will compliment these spicy turkey stuffed peppers. Here are a few crave-worthy recommendations!
Pair with Quinoa Salad: My refreshing Quinoa Tabbouleh Salad comes together in just 20 minutes. Flavored with fresh mint and lemon juice, this veggie-packed side dish won't disappoint!
Serve with Orzo: Pasta, anyone? This zesty Lemon Parmesan Garlic Orzo is an out-of-the-box recipe that will impress everyone at the table. Add these hearty peppers to the mix and you've got one delicious family dinner.
Serve with Rice: Cilantro rice, sticky rice, cauliflower rice—it would all taste incredible alongside these stuffed peppers! Pile up your plate and enjoy.
Ingredients:
1 1/2 lb. of ground turkey
1 T. cilantro
1 tsp. of chili powder
1 poblano pepper, diced
1/2 cup of onion, diced
1 cup of corn (I used frozen)
1 can of black beans, low sodium (15oz), drained & rinsed
1/2 tsp of salt
1/4 tsp of pepper
4 red peppers, halved & seeds removed
2 cans of fire roasted tomatoes with garlic, drained
1/2 cup of Monterey Jack cheese