Hot Pink Coconut Slaw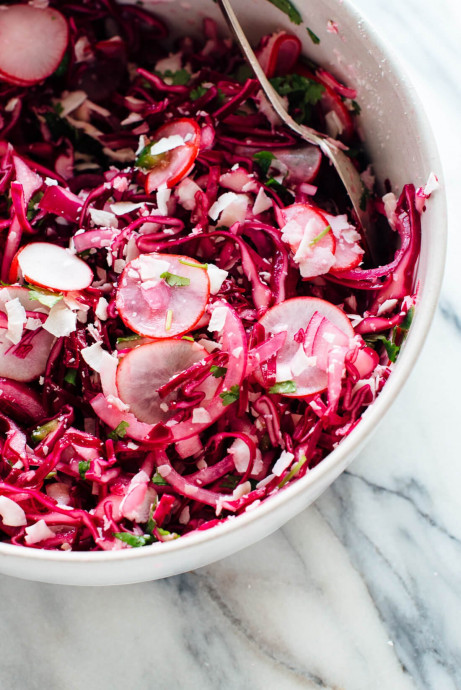 What the heck do you call such a colorful side? Colorful coconut coleslaw? More specifically, hot pink coconut coleslaw? Radical coconut slaw? I don't know, but coconut slaw doesn't do it justice. I do know that if you are a coconut fan, you should make this as soon as possible. You'll be glad you did!
This antioxidant-rich coconut slaw is fantastic as a side as is, so I decided to present it as such. It's also awesome with guacamole or strips of fresh avocado—try that on a taco or chips or tostada. It also plays surprising well with black beans, the creamy cashew sour cream, and with feta. Just keep in mind that the 20-minute marinating time is absolutely necessary. As always, please let me know how you like it!
Ingredients:
¼ cup lime juice (about 1 large lime)
¼ cup apple cider vinegar
2 tablespoons olive oil
1 tablespoon honey or maple syrup
½ teaspoon salt
1 small-to-medium red onion, thinly sliced (2 cups)
4 cups thinly sliced purple cabbage (about ½ medium cabbage)
1 cup thinly sliced radishes (about 5 large) or shredded carrots
1 small jalapeño, seeds and membranes removed, chopped
½ cup chopped cilantro
1 cup large unsweetened coconut flakes or ¾ cup unsweetened shredded coconut