Autumn Apple Salad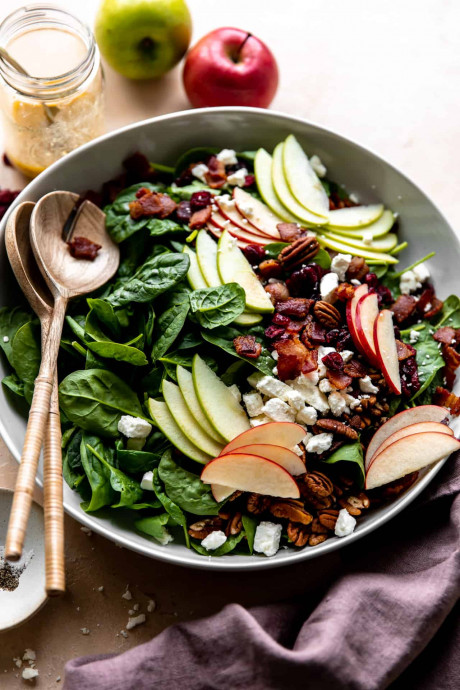 Celebrate all the flavors of Fall with this Autumn Apple Salad drizzled with a homemade Maple Dijon Vinaigrette. Pecans, cranberries, apples, feta and baby spinach are layered on top of fresh spinach. The dressing has hints of maple syrup, tangy vinegar, and smooth Dijon Mustard.
This salad is loaded up with all the best fall flavors! Plus we're using two kinds of apples. Granny Smith and Fuji. To give a sweet and tart flavor.
The dressing is made of ingredients you most likely have in your pantry: extra virgin olive oil, maple syrup, apple cider vinegar, dijon and salt and pepper in there. This has become one of my all time favorite salad dressings and I make this to drizzle on most of my salads now.
This apple salad is the perfect dish to bring to any potluck or party. There's so many comments below of readers who have made this to bring to a holiday dinner only to have this be the first dish completely finished off. It always gets rave reviews, and everyone will be asking for the recipe.
Ingredients:
2 cups baby spinach, raw
¼ cup dried cranberries
¼ cup pecans, halved
2 tbsp feta cheese
½ granny smith apple , sliced
½ fuji apple , sliced
2 slices bacon , cooked and chopped
MAPLE DIJON VINAIGRETTE
2 tbsp extra virgin olive oil
1 tbsp apple cider vinegar
1 tbsp maple syrup
1½ tsp dijon mustard
salt & pepper to taste