30 Minute Creamy Chicken and Parmesan Sage Dumplings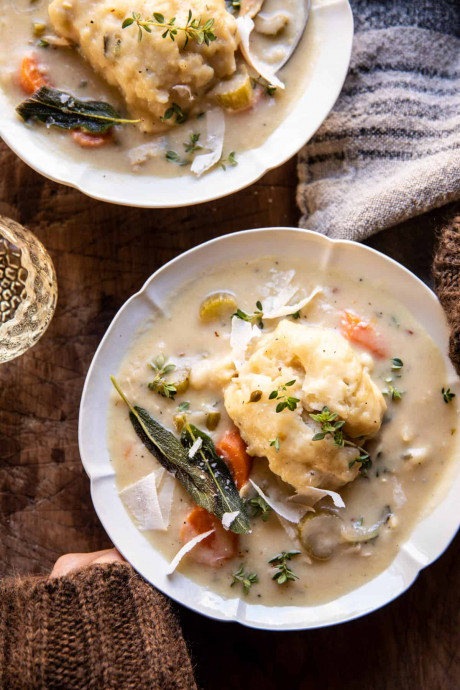 Easy 30 Minute Creamy Chicken and Parmesan Sage Dumplings. All made in just one pot for a cozy delicious dinner. Taking a classic and upping the flavor with caramelized shallots, garlic, fresh sage, and a touch of milk. This warming herb filled soup base is topped with light and airy parmesan dumplings making every bite comforting and delish. This recipe is perfect to cozy up to on both fall and winter nights.
I returned home from Cleveland to crisp fall weather here in Colorado, with dark skies and day full of low clouds. Usually these days aren't my favorite and can leave me feeling a little tired. But in the fall, an extra cozy day here and there is a little more welcomed.
It gave me the perfect excuse to remake this chicken and dumpling recipe, yet again. I have been making it on repeat over the past few weeks.
One, because we absolutely love it. It's like a creamy chicken, but with the lightest, fluffiest dumplings on top. And two, because it's so quick and easy. Most of the time I have this ready in under 30 minutes.
Ingredients:
2 tablespoons extra virgin olive oil
2 shallots, thinly sliced
4 cloves garlic, chopped
2 ribs celery, chopped
6 carrots, chopped
2 tablespoons fresh thyme leaves
2 tablespoons chopped fresh sage
1 bay leaf
1/3 cup dry white wine, such as Pinot Grigio
2 quarts low sodium chicken broth
1-2 cups shredded chicken
1/2 cup cream, whole milk, or coconut milk
1 1/2 cups all-purpose flour
2 teaspoons baking powder
1 cup milk
1/3 cup grated parmesan cheese