Mediterranean Cauliflower Rice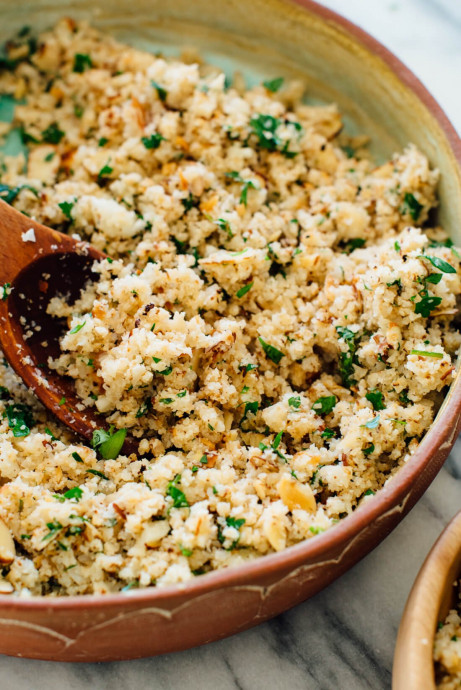 To be honest, I was skeptical of cauliflower rice. How could blitzed raw cauliflower, warmed in a skillet, taste anywhere near as satisfying as fluffy, steaming rice? It can't. The inevitable truth is that cauliflower rice needs some help from other flavors to send me back for seconds.
This is cauliflower rice kicked up several notches by some of my favorite Mediterranean ingredients. Fresh parsley, lemon, garlic, toasted almonds and red pepper flakes make this cauliflower rice an irresistible side dish. It tastes like rice pilaf crossed with tabbouleh, if you will. It is delicious.
You could make this low-carb cauliflower rice to round out a light meal, or to lighten up an otherwise heavy dinner. It will go well with any recipe that is loosely Mediterranean in flavor, especially with dishes that contain lemon and fresh herbs. Serve this recipe when a green salad won't cut it!
Ingredients:
1 medium-to-large head cauliflower or 16 ounces store-bought cauliflower rice
½ cup sliced almonds
2 tablespoons extra-virgin olive oil
2 cloves garlic, pressed or minced
Pinch of red pepper flakes (omit if sensitive to spice)
¼ teaspoon fine sea salt
½ cup chopped flat-leaf parsley
1 tablespoon lemon juice
Freshly ground black pepper, to taste