Fiendishly Tasty Bacon Turkey Burgers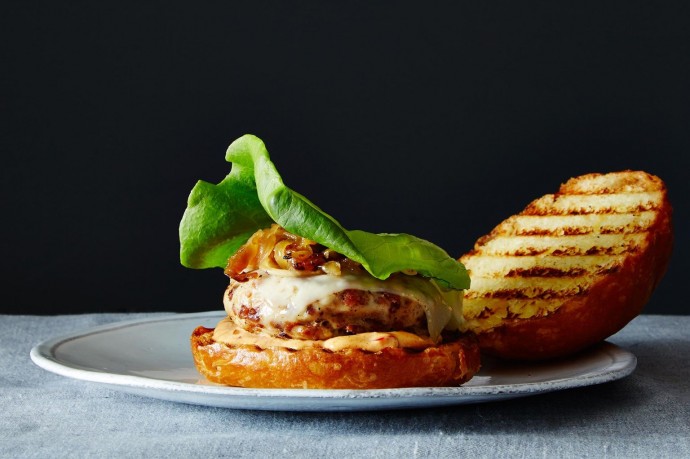 If you're looking for a virtuous turkey burger, you've opened the wrong recipe. This recipe is inspired by the bacon turkey burger served at Foster Burger in Portland, OR, and it is chock full of bacon. The bacon adds its umami goodness, but doesn't take center stage. Lightly caramelized onions, Swiss cheese, butter lettuce, and a smokey, piquant sauce help to make this burger devilishly good.
This burger was awesome! Of course, with a pound of bacon and some fat it's going to be hard to fail, but this was the juiciest, moistest turkey burger I have ever had. The sauce was really good too and honestly, I saved what was left and plan to slather it on my next (beef) burger this weekend. The caramelized onions added a nice sweetness, the sauce had a delicious smokiness from the paprika, the swiss mellowed everything out and the result was juicy, salty, bacon heaven. Now, I don't even want to think how many calories I ingested but it was worth every bite.
Ingredients:
1 pound thickly sliced peppered bacon
1 extra-large yellow or sweet onion
Salt
1 pound ground turkey (about 90% lean)
4 pub or brioche hamburger buns
4 slices Swiss cheese (if they're especially thin slices, double up)
4 bun-sized butter lettuce leaves (preferably crisper inner leaves)
1/2 cup mayonnaise (homemade is excellent, but store-bought works well)
2 tablespoons finely minced pickled peppers (sweet or spicy -- your choice)
1 1/2 tablespoons Dijon mustard
1/2 teaspoon smoked paprika
1/4 teaspoon ground cumin