Caramelized Onion And Bacon Tart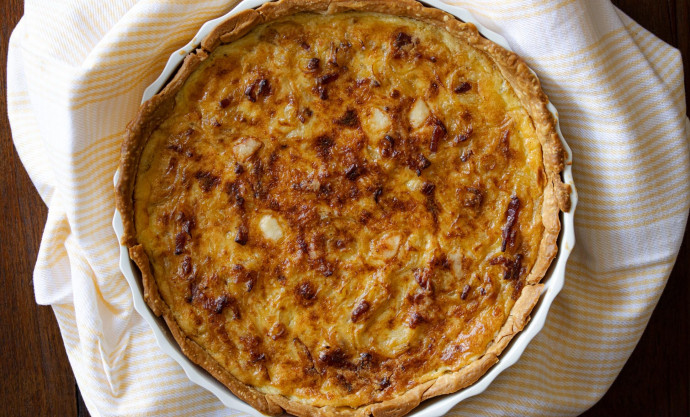 French classic tart of caramelized onions, bound with a savory custard with cheese and a hint of bacon. A wonderful dinner for the whole family.
Onions are one of the most versatile and cultivated vegetables. You can enjoy them raw or cooked. Cooking them on medium to low heat to let their natural juices come out and become tender while caramelizing them. Onions are rich in vitamin C and B, it is also a great source of potassium.
The caramelization process may take a bit longer to cook, however, once you bite into the tender and sweet flavor, your taste buds will thank you.
Ingredients:
4 cups yellow onions, thinly sliced
1 tablespoon olive oil
1 tablespoon unsalted butter
6-ounces thick bacon sliced into ¼ inch thick julienne
1 cup heavy cream
2 large eggs
½ cup provolone cheee
2 tablespoons provolone cheese
salt and pepper
1 9-inch pie crust ( pillsbury) part prebake in baking dish