Mushroom Gravy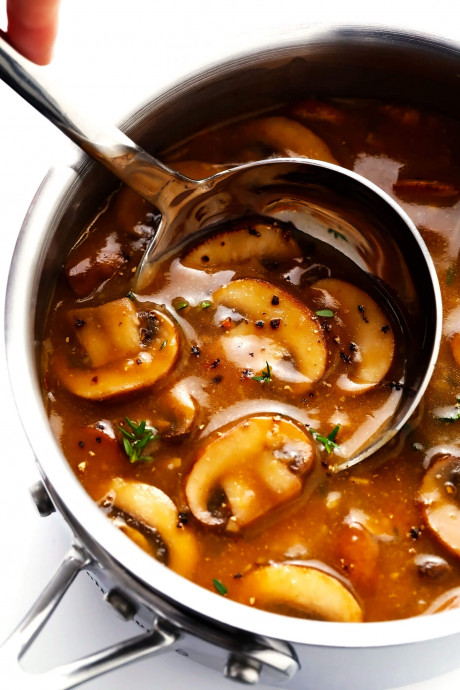 This make-ahead mushroom gravy recipe is naturally vegetarian (and vegan) and full of the best, rich, savory flavors.
This vegan gravy is made with a simple base of mushrooms, onions, garlic, veggie stock, thyme, and butter (or vegan butter). But to add in some extra depth of flavor, I deglazed the pan with a generous splash of white wine (or brandy or bourbon would also be delicious) and also added in a spoonful of miso paste (or you could use a dash of soy sauce) for extra umami goodness. And together, all of those savory ingredients combined to make a full-flavored gravy that arguably rivals any meat-based gravy I've ever tried — no turkey required!
The other big bonus with this mushroom gravy recipe is that it's easy to make up to a few days ahead of time, which comes in very handy if you happen to be serving it around the holidays. I've also included options below if you would like to make your gravy gluten-free or alcohol-free, plus tips for how to make your gravy more creamy if you would like. And while I happen to love the hearty mushroom chunks in this gravy, you are of course totally welcome to purée yours if you prefer a silky smooth gravy too.
Let's make some!
Ingredients:
3 tablespoons butter (or vegan butter),
1/2 cup diced white onion, diced
1 pound baby bella mushrooms, sliced
2 large cloves garlic, minced
3 tablespoons all-purpose flour
1/4 cup dry white wine
2 1/2 cups vegetable stock
2 teaspoons fresh thyme leaves
2 teaspoons white miso paste*
fine sea salt and freshly-cracked black pepper