Beef Stew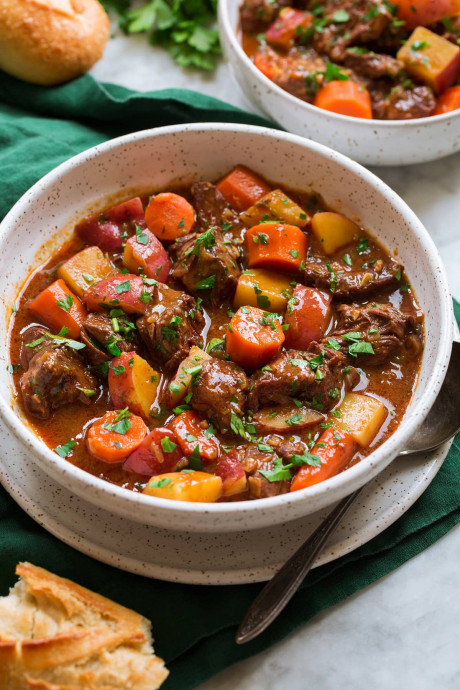 This homemade Beef Stew is the ultimate hearty comfort food! It makes the coziest meal and is perfect served with rustic bread alongside it. This version is generous with the beef and the vegetables, and it's paired with a rich nicely thickened broth.
An incredibly delicious traditional beef stew that's likely even better than you remember your family making growing up!
It's made with tender bite size pieces of beef, creamy potatoes, nutritious carrots, and a rich and savory red wine infused broth.
This easy beef stew follows a straightforward prep and finishes with that classic old fashioned flavor.
Beef and onions are browned on the stovetop (tip: nicely browned beef is key to the complex depth of flavor here). Then the liquids and herbs are added and the stew and it's cooked in the oven. Partway through the remaining vegetables are added so they don't end up mushy, and then it's baked once more until everything is tender.
Ingredients:
2 1/4 lbs. chuck roast, trimmed of excess fat, cut into 1 1/4-inch cubes
Salt and freshly ground black pepper
3 1/2 Tbsp olive oil, divided
2 cups chopped yellow onion (1 large)
1 1/2 Tbsp minced garlic (about 4 cloves)
1/4 cup all-purpose flour
1.5 Tbsp tomato paste
1 cup dry red wine, such as Pinot Noir or Cotes du Rhone
3 1/2 cups beef stock
2 tsp Worcestershire sauce
1 Tbsp fresh thyme leaves
2 tsp minced fresh rosemary
2 bay leaves
20 oz. red potatoes, scrubbed and rinsed clean
14 oz. large carrots (about 4)
1 Tbsp balsamic vinegar
2 Tbsp minced fresh parsley