Slow Cooker French Wine and Mustard Chicken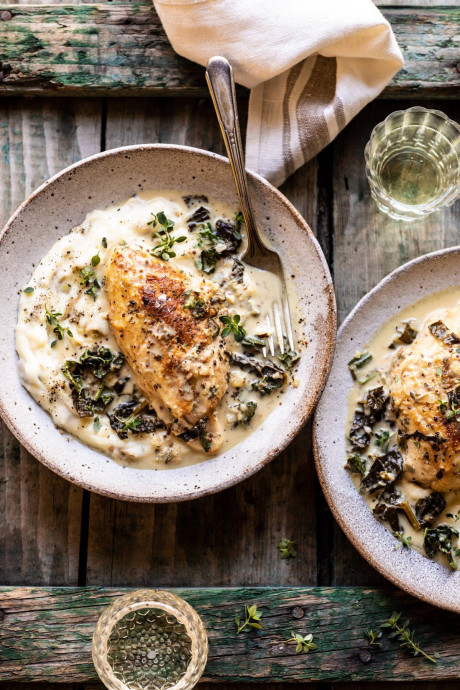 Slow Cooker French Wine and Mustard Chicken…turning a classic French recipe into an easy slow cooker meal using white wine, creamy Dijon mustard, fresh herbs, and parmesan cheese. And I even added in some vibrant kale for veggies and color. This slow-cooked chicken dinner is a hearty and delicious meal to come home to at the end of a busy day. And the best part? It's the easiest dinner to prepare. Serve with creamy mashed potatoes, steamed rice, or enjoy over buttery egg noodles. You simply can't go wrong with a dinner like this French-inspired mustard chicken. Bonus? You can also make this in the Instant Pot or on the stove-top.
Breaking out a slow cooker recipe today and it's not even October…sorry, but then not really. Because I'm pretty sure that most of us are about ready for a slow cooker recipe. Am I right?
This is one of those dishes that I've been wanting to make for the longest time now. But I wanted to hold off until the autumn days started to set in. It's creamy, herby, a touch buttery, and has the BEST flavor. I never thought I was one to enjoy mustard, but that all changed a few years ago when I made this easy skillet coq au Riesling. It's such a cozy combo with so much flavor. And that's where this slow cooker chicken comes into play.
Ingredients:
1 cup dry white wine, such as Pinot Grigio or Sauvignon Blanc
1/3 cup heavy cream or canned full fat coconut milk
2 tablespoons dijon mustard
2 tablespoons grainy dijon mustard
2 shallots chopped
2 cloves garlic, minced or grated
kosher salt and pepper
2 pounds boneless chicken breasts, skin on or off
1 tablespoon extra virgin olive oil
2 tablespoons fresh thyme leaves
1 tablespoon fresh chopped sage
2 tablespoons salted butter
1/3 cup freshly grated parmesan cheese
1/2 bunch kale, chopped
mashed potatoes or steamed rice, for serving