Pomegranate, Blackberries Sauce With Pork Tenderloin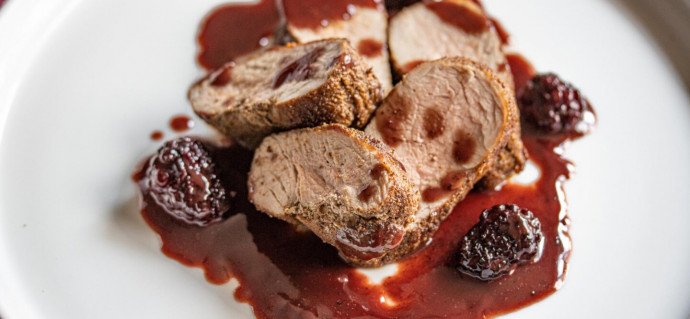 Pork tenderloin is one of the most versatile meat. Always tender and full of flavor. You can add any spice, sauce to it and it marries well. Not to mention that takes no time to cook also. The bitterness of the pomegranate with the blackberry sweetness makes for a savory dish.
Letting the aromatic spices rub sit on the pork tenderloin for a bit, time permitting, of course, will have time to penetrate and infuse the outer layer of the tenderloin with a medley of flavors. The paprika added to the mix adds the perfect hint of heat. I used a safe amount for my family, however, feel free to add more if you can handle it.
Suggested side dishes.
Rice with peas and butter, is a very easy and quite delicious counterpart as a side dish. Tender rice will soak up the sauce. Replace the white rice with wild rice for something different.
A very simple and flavorful Tomato, arugula salad, will keep the balance of your meal well. You can omit the cheese.
Potatoes are always on my top list, the French in me is hard to not come thru. Mashed potatoes with loads of butter are on the top of my list or Champs which are loaded with scallions.
Last but not least, Broccolini and Carrots. Light, savory, and healthy, a good combination.
Ingredients:
¾ teaspoon ground cumin
¾ teaspoon ground coriander
½ teaspoon black pepper
¼ teaspoon paprika
½ teaspoon salt
2 pounds pork tenderloin, each cut in half
2 tablespoons olive oil
1 cup plain pomegranate juice such as POM
¼ cup white wine
1 teaspoon unsalted butter
⅓ cup heavy cream
10 blackberries
1 teaspoon sugar (optional)