Cheesy Mini Potato Gratin Stacks (Muffin Tin)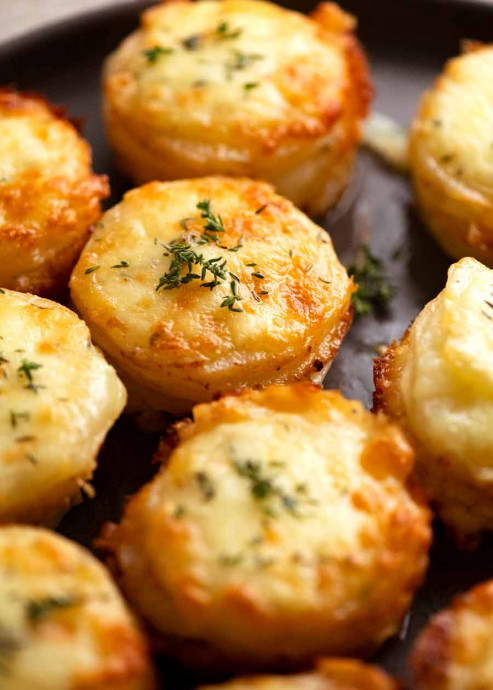 These adorable Potato Gratin Stacks are the mini version of Potatoes au Gratin (Dauphinoise). Layers of thinly sliced potato baked in a muffin tin with cream, cheese, garlic and thyme, the best bit are the crusty caramelized cheesy edges!
Serve as a potato side for dinner. Breakfast with eggs. Party food bites. So many possibilities!
Besides not having to share, making these in mini form means you get nice golden cheesy edges on each piece which might be my favorite part. No golden edges when you make Dauphinoise the usual way!
You will want to eat them straight out of the oven, and they are certainly tasty enough to do so! But actually, they are intended to be a side dish.
I tend to pull these out for special occasions when we want a side dish that's a bit special. Think, holidays and celebratory gatherings, alongside things such as: a standing rib roast, the most glorious buttery, herby, garlicky roast chicken, the roast pork of your dreams (because it's completely encased in crackling), a grand Thanksgiving Turkey (brined is the only way!), a big juicy steakhouse steak.
Ingredients:
Oil spray
1.2 kg / 2.4 lb starchy potatoes , large long ones (Note 1)
30g /2 tbsp butter , unsalted
2 garlic cloves , finely minced
1/2 cup heavy / thickened cream
1 tsp fresh thyme leaves (or 3/4 tsp dried)
1/2 tsp salt
Black pepper
75g / 2.5 oz gruyere cheese sliced into 12 squares to fit into muffin tin (or other melting cheese, Note 2)
3/4 cup gruyere cheese (or other melting cheese), shredded