Homemade "Twix" Bars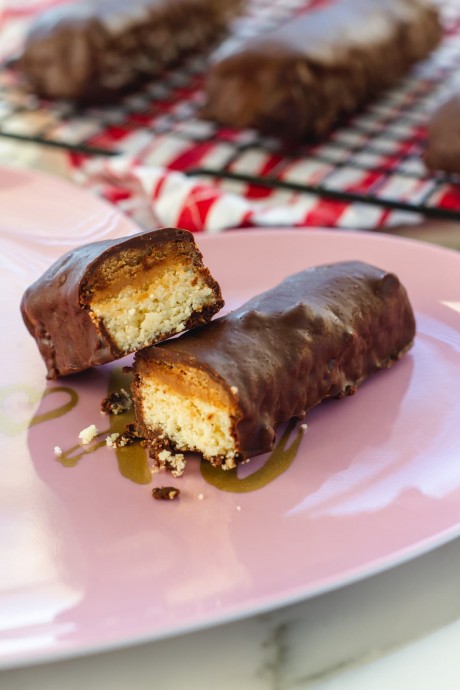 This is a low-carb version of one of my favorite candy bars, Twix. They released a dark chocolate version a couple of years ago but I never got a chance to try it, so I sought to make my own keto Twix bars. Cookie bars, caramel and dark chocolate. So good!
I love good candy bars, but they're far from being low-carb. Laden with sugars and carbs, the traditional candy bar simply doesn't fit into a low-carb diet. While many companies are starting to produce similar treats, I doubt we'll ever get a low-carb version of the classics. What's a candy lover supposed to do? Make it yourself!
I'll admit these bars were a little challenging to create, only because my baking skills aren't the greatest, but they're definitely not impossible. I found the chocolate covering to be the most difficult but there are alternate methods if you're looking to simplify the process. For one, you could simply make this into a layered cookie sheet and cut slices out. There are also candy bar molds that make it easier for you to assemble. Of course, a big bowl of melted chocolate and a cooling rack is all you really need to robe the bars in chocolate. I'm sure you will enjoy every last bite.
Ingredients:
1.5 cup almond flour
4 oz butter melted
1 tbsp granulated sweetener
1 tsp vanilla extract
1 pinch salt
1/3 cup granulated sweetener
1/3 cup Xylitol
6 oz heavy cream
5 oz butter
1/2 tsp vanilla extract
1 pinch salt
20 oz Lily's Sweet Chocolate Dark Chocolate Baking Bars