Cinnamon Apple Teacake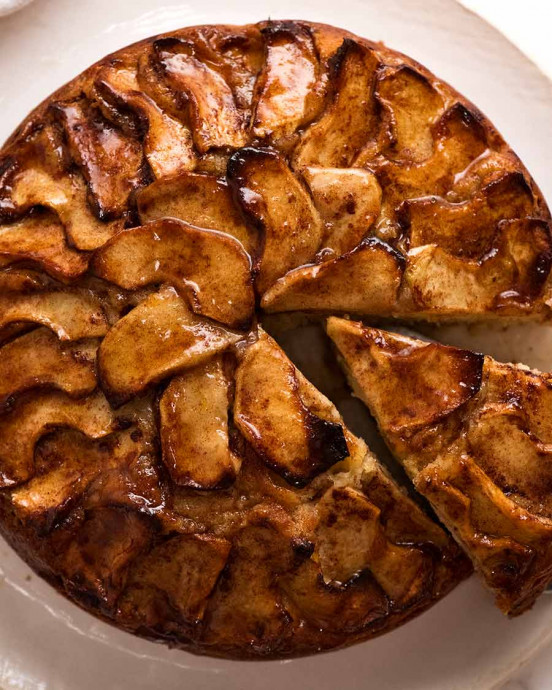 Here's a delightful cake for afternoon tea – Cinnamon Apple Teacake! Apples take center stage here – you'll find them inside AND on top, mingling with buttery cinnamon flavors.
While it's sheer perfection fresh out of the oven, this is one of those rare cakes that is still truly great 3, 4, 5 days later! Brushing the cake with warmed jam is entirely optional – it's just to give it a lovely shiny finish. It's best to use apricot jam because it glazes on clear. Other flavor jams (strawberry, raspberry etc.) work just fine, but there is a slight tinge of color – though not really noticeable in this teacake because the apples are golden! Apples take center stage in this lovely teacake! The crumb is soft and beautifully moist, there's apple inside and on top. It takes time to chop the apple, but the cake part is dead easy - just a bowl and a wooden spoon!
Ingredients:
CINNAMON APPLES:
600g/ 1.2 lb Granny Smith apples, peeled and cored (or any other - red, green, golden) (4 large, 5 small/medium, Note 1)
2 1/2 tsp cinnamon powder
50g/ 3 tbsp unsalted butter , melted
2 tbsp white sugar
DRY:
1 1/2 cups flour , plain/all purpose
2 tsp baking powder
1/2 tsp salt
WET:
4 tbsp/ 60g unsalted butter , melted
1/2 cup oil (canola, vegetable)
2 large eggs , at room temperature (~55g/1.95 oz each) (Note 2)
3/4 cup white sugar , caster / superfine best (but not essential)
2 tsp vanilla extract
GLAZE (OPTIONAL):
1 1/2 tbsp apricot jam (or other flavour)
1 tbsp water