Buttermilk Roast Chicken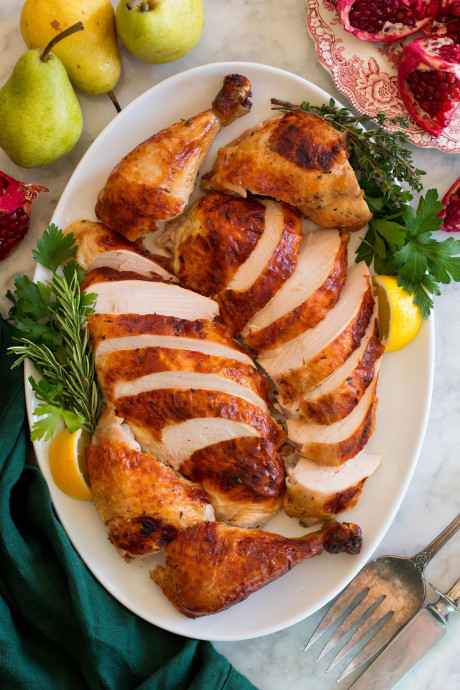 Such an easy Roast Chicken recipe. A whole chicken is brined in a well salted, buttermilk, garlic and herb mixture then it's oven roasted until beautifully browned and amazingly tender! It's likely to become your new favorite way to prepare and roast a chicken!
The acidic buttermilk tenderizes the meat, adds flavor, and promotes the skin browning. The salt keeps it juicy (as long as you don't over-bake it of course), it tenderizes and seasons as well. And the herbs and garlic lend fresh flavor.
It's an absolute breeze to prepare, they key is just to plan ahead. The night before you plan to make it, begin soaking it in the brine. A lengthy brining is a must for juicy chicken. No shortcuts.
The first 3 ingredients (chicken, buttermilk and salt) are key here. If you don't have the others, they can be omitted and you'll still have a tasty chicken.
Try with other herbs. Sage, basil, oregano, cilantro and chives are all great options.
Add a few tablespoons of lemon zest to the marinade.
Optionally, try rubbing some of the herbs, garlic and salt under the skin of the chicken before brining if you want that flavor to soak deeper into the chicken.
Ingredients:
4 to 4.5 lb whole chicken (preferably organic or free range)
2 cups buttermilk
2 Tbsp kosher salt
2 tsp fresh cracked black pepper
2 Tbsp minced garlic
1 Tbsp minced fresh rosemary leaves
1 Tbsp minced fresh thyme leaves