Blueberry Cheesecake Pancakes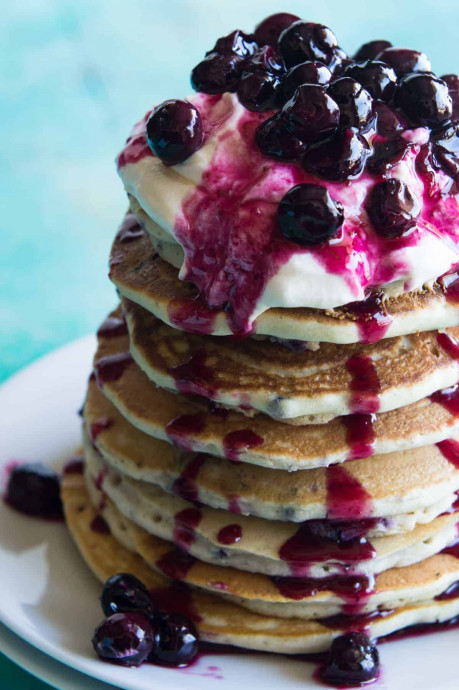 Blueberry Cheesecake Pancakes! Soft pancakes bursting with juicy blueberries. Topped with a fluffy cheesecake topping and a homemade blueberry sauce. You will want to start everyday with this breakfast! Life just doesn't get any better.
First up is this homemade blueberry sauce. It's pretty much like my Homemade Strawberry Sauce I shared not too long ago. Except I used blueberries instead! Genius right? I kind of want to pour this sauce all over all the things right now. Perfect for yogurt, pancakes, waffles, ice cream, really anything you can think of.
Now the cheesecake topping. I'm not quite sure what to call it. Cheesecake fluff? I don't know. It's super fluffy though. And addicting. It's based on the cream cheese glaze I used back in my Strawberries and Cream pancakes I told you about earlier. Except I wanted to make the topping to die for fluffy and creamy. So I mixed up some heavy cream until it was exactly that and folded it into the cream cheese glaze and out came this wonderful cheesecake fluff mixture. It's light, airy and tastes like..cheesecake!! Perfect companion for that blueberry sauce.
Ingredients:
BLUEBERRY SAUCE
1½ cups fresh blueberries
½ cup white granulated sugar
1 tsp vanilla extract
1 tbsp lemon juice, freshly squeezed
CHEESECAKE TOPPING
4 ounces cream cheese, softened
1 cup heavy cream
1 tsp vanilla extract
1 cup powdered sugar