Creamy French Onion and Mushroom Soup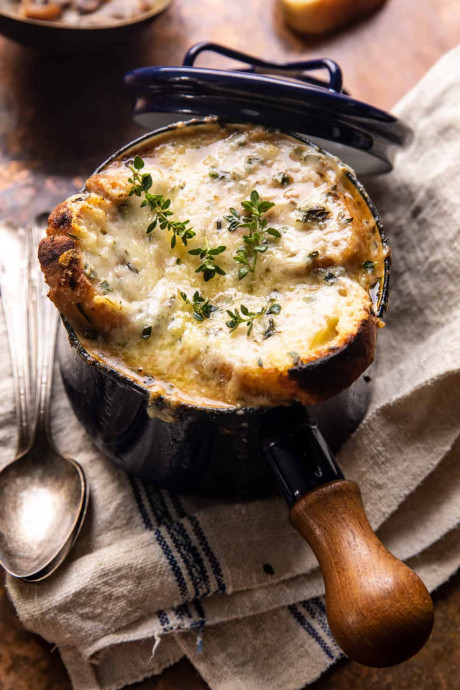 This Creamy French Onion and Mushroom Soup is the best bowl of cozy french onion soup. It has everything you love about a warming, cheesy bowl of French onion soup…only better. There's a touch of cream to make every spoonful rich and creamy. Slowly caramelized onions in wine with fresh herbs deliver the most delicious flavor. Then add that classic cheesy bread topping, and you'll have the perfect bowl of soup. Great for both fall and winter days!
This isn't your average bowl of French onion soup. Not that French onion soup could ever be average, it's always delicious, but this bowl is a step up. It took me a while to get this one figured out, but once I did, I knew it was special. It's funny, my process for developing recipes can be all over the place. Sometimes I have a solid idea in my head. One that already really excites me and I don't think twice about creating the recipe.
Other times I have an idea that I like, but don't love. Often times it's these recipes that take me a little longer to get just right. That was kind of the case with this French onion soup. I wanted to make a French onion soup with mushrooms and lots of herbs. Of course, that would have been delicious, but I needed something to really make me excited.
Ingredients:
6 tablespoons salted butter
4 medium yellow onions, thinly sliced
1 1/4 cups dry white wine, such as Pinot Grigio or Sauvignon Blanc
3 cloves garlic minced or grated
2 cups cremini or wild mushrooms, sliced
2 tablespoons fresh thyme leaves
2 tablespoons chopped fresh sage
1 teaspoon honey
6-8 cups low sodium chicken or vegetable broth
2 teaspoons Worcestershire sauce (or soy sauce)
2 bay leaves
kosher salt and black pepper
1/2 cup heavy cream
6 slices french bread
2 cups shredded Gruyère cheese