Classic Trifle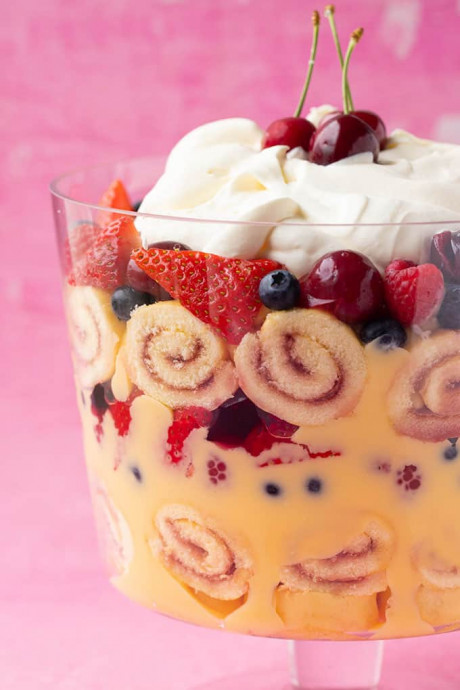 Classic Trifle made with fresh berries, sponge cake and custard. This oh-so-delicious no bake dessert easily serves a crowd and takes only minutes to make.Trifle. Have you had it before? Living here in Australia, Trifle is something of a staple. Especially around the holidays. And always when you have a hungry crowd to feed.
It's one of those no-fuss desserts that is really fun to throw together – and there's basically no rules! It's supposed to be messy but oh-so-tasty, you'll be reaching for seconds.
The type of fruits can vary – some use tinned peaches, others use fresh mangos – but I always use berries.
You can really customise trifle to your liking and to what you have available to you, but follow the basic thread – cake, soak, fruit, jelly, custard – repeat. The final touch? Clouds of whipped cream.
Ideally, your trifle will have time in the fridge to soak – overnight is perfect. All the flavours will meld together and the cake will soften. It tastes just how you would expect – sweet, creamy and altogether delightful.
Ingredients:
1 x 85 gram packet of raspberry jelly
420 grams (approximately 6 cups) store bought sponge rolls*
4 tablespoons cranberry juice*
500 grams (approximately 4 cups) fresh strawberries, raspberries and blueberries
480 ml (2 cups) store bought custard
360 ml (1 and 1/2 cup) whipped cream