Baked Blueberry Donuts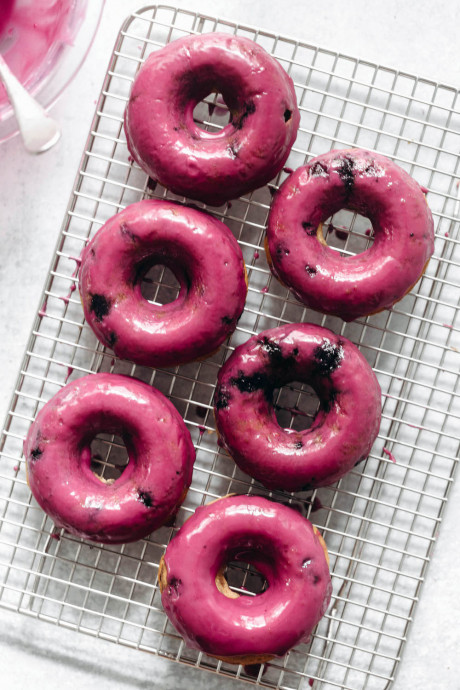 Full of berries and SO fluffy! Vegan baked blueberry donuts made with oat flour and drizzled with berry glaze. A sweet snack or brunch treat!
How happy is it when we finally hit the part of the calendar where berries are EVERYWHERE and belong in everything? It makes baking more purple and my heart more happy, and these Baked Blueberry Donuts are the epitome of all that joy in fluffy brunch food form.
It's been a (extra long) minute since I've baked with oat flour, but we are bringing it back today. The lightness and lemony-ness of these flavors called for fluffy but breakfast wholesome, but all those tiny-but-juicy wild blueberries deserve to be nestled in the most luxurious cake donut fluff too. So I have a few tricks to ease away all of your gummy oat flour texture fears, I was so so happy with how this crumb came out. Is this my favorite sweet drizzly purple part? Maybe. And its ridiculously simple to make with just powdered sugar, blueberry juice, and a touch of vanilla (not even THAT necessary really). Just make sure your donuts are fully cooled before drizzling, or things will get real glaze-melty and berry messy real fast. You will be licking your fingers regardless though, you're welcome.
Ingredients:
1 flax egg (1 tbsp ground flax + 3 tbsp water)
1/2 cup (160g) maple syrup
1/2 cup (125g) Organic SunButter
2/3 cup (160g) almond milk
2 tbsp lemon juice
1 tsp vanilla extract
1 1/4 (150g) cup oat flour
3 tbsp (23g) coconut flour
1 tsp baking powder
1/4 tsp salt
1/2 cup (70g) blueberries (fresh or frozen)
Glaze
1 cup (200g) powdered sugar
3–4 tbsp blueberry juice
1/2 tsp vanilla