The Best Chicken Parmesan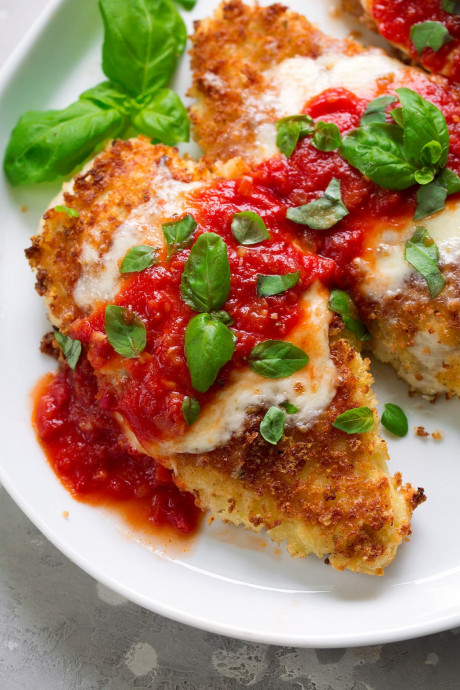 Chicken Parmesan! It is easily the best recipe I've ever tried and it's likely to become you're new favorite too. Everything about it is spot on delicious! From the tender crusted chicken, to the gooey melted cheese, and the final coating of fresh marinara and basil. YUM!
This crispy chicken parmesan recipe is the opposite of all those negatives. You get:
A perfectly golden brown crispy parmesan crust. And it's amazingly crisp thanks to the extra crispy Panko and frying it in olive oil.
Sauce only covered the cheese, which protects that crispy layer of crumbs, so you wont end up with a soggy breading (what's the point of breading if you're just going to soak it in a wet sauce?).
It has great flavor throughout. There's parmesan and herbs in the breading, two kinds of cheese cover the top, basil, onion and garlic in the homemade marinara, and it's finished with more fresh basil.
The cheese isn't overly chewy. If you pull it out of the broiler after just a minute or two it should still be stretchy and gooey.
Ingredients:
Marinara Sauce:
1 Tbsp olive oil
1/4 cup finely chopped yellow onion
2 garlic cloves, minced (2 tsp)
1 (28 oz) can crushed Roma tomatoes
1/4 tsp dried oregano
2 fresh basil sprigs*
salt and freshly ground black pepper
Chicken:
2 (8 oz) boneless, skinless chicken breasts, butterflied and separated, and pounded to 1/2-inch thickness
2 oz whole-milk mozzarella cheese, shredded (1/2 cup)
2 oz provolone cheese**, shredded (1/2 cup)
1 large egg
1 Tbsp all-purpose flour
1 1/2 oz Parmesan cheese, finely shredded (1/2 cup)
1/2 cup Panko bread crumbs
1/2 tsp garlic powder
1/4 tsp dried oregano
1/3 cup olive oil
1/4 cup torn fresh basil