Easy Mushroom Ragu with Parmesan Polenta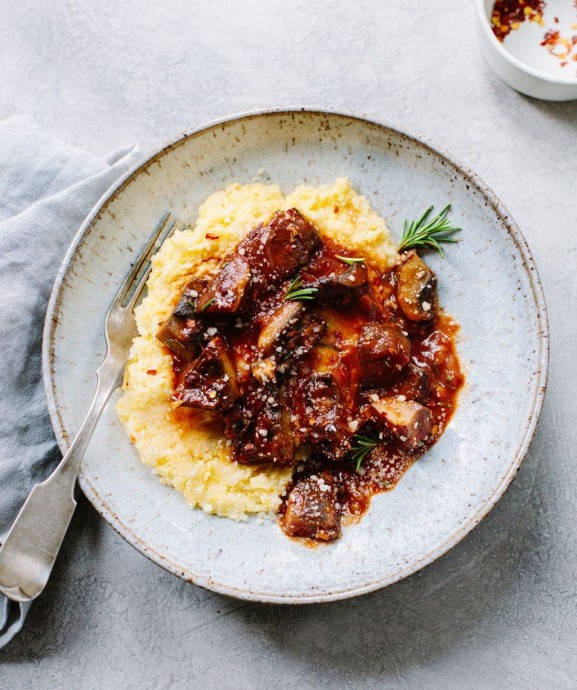 Here's the perfect compromise: creamy, cheesy polenta topped with a tomatoey herb- and garlic-loaded mushroom ragù that's so savory, you might even forget it's meatless.
Rich and savory portobello mushroom ragu served over creamy cheese polenta — a flavor bomb vegetarian main dish! Are you're craving polenta for dinner? How about the heartiness of a rich-tasting, meaty ragu, only it's completely vegetarian? You're going to love this portobello mushroom ragu, a sauce that tastes complex and slow-cooked, but that actually comes together in just under an hour.
It makes a fantastic one-bowl meal served over creamy Parmesan polenta. After all, polenta is a gluten-free whole grain, and the robust, chunky sauce is vegetarian, full of fiber and mineral-rich portobellos. Although the combo of cheesy polenta and this super-tasty sauce feels totally indulgent, I have no problem whatsoever tagging this recipe as healthy.
One reason this dish tastes so delicious is that it includes ingredients that happen to be full of umami, a word that basically translates from Japanese to mean "yummy"!
Ingredients:
3 tablespoons (45 ml) extra-virgin olive oil
2 shallots, halved lengthwise and thinly sliced
salt
1 pound (500 g) portobello mushrooms caps, sliced into 1-inch chunks
1 garlic clove, thinly sliced
2 teaspoons finely chopped fresh rosemary or thyme
1/2 teaspoon red chili flakes
3 tablespoons (45 g) tomato paste
1 teaspoon balsamic vinegar
1/3-1/2 cup (75-125 ml) vegetable stock or water
2 tablespoons (30 g) unsalted butter
1/2 cup (50 g) freshly grated Parmesan cheese
For the polenta
4 cups (1 l) water
1 cup (250 ml) milk
Kosher salt
1 cup (160 g) coarse or medium-grind cornmeal
3 tablespoons (45 g) butter
1/2 cup (50 g) grated Parmesan cheese